Janice Connolly, aka 'Barbara Nice' certainly kick-started Christmas for the audience at The Lowry Theatre with a bang. Her Christmas Special Show with all the associated trimmings was better than I ever expected.
The character of Barbara Nice presents herself gradually on to the stage. Armed with 'bags for life' and dressed in her new outfit from 'Peacocks' ('This is never a 14.. I suppose you get what you pay for'), she meets with audience members and chats to them on her way up to the stage.
Barbara is a warm, endearing Stockport Housewife who likes a bargain, doesn't tell her husband where she is going and wants to clearly spread joy. 'Isn't this better than doing drugs?' she exclaimed to all. Proud to be from Stockport or as she put it 'Land of the Pyramid and the Viaduct' she shared hilarious tales of who she used to clean for, such as David and Victoria- 'David is wonderful, Victoria is what you'd expect'. Also sharing that she allegedly used to clean for David Attenborough, she commented that he told her that Altrincham Ice rink and Sea Life was actually used for his programmes such as The Blue Planet, but he hadn't actually told anyone.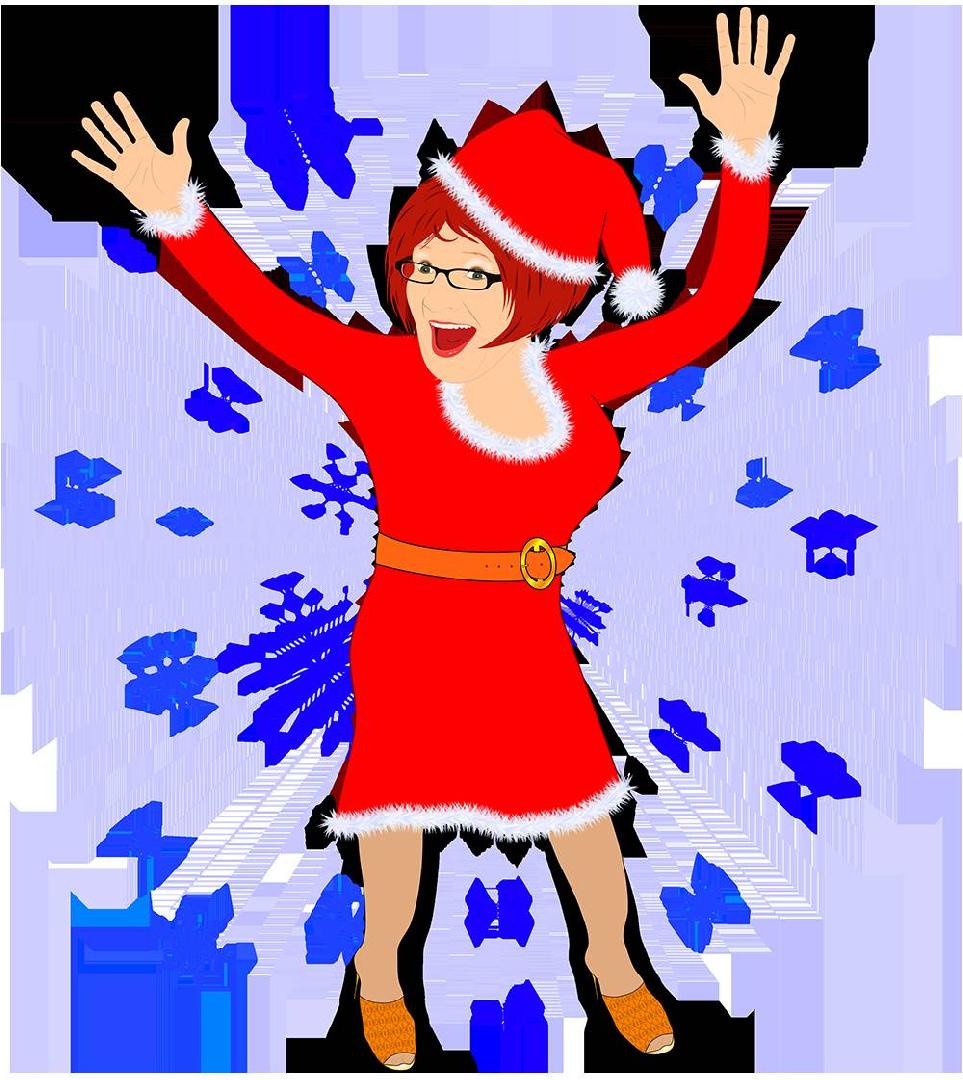 The Show consisted of a raffle, a mince pie eating competition, and a sleigh ride, all requiring much audience participation which is essential if you are going to watch the show. A personal favourite game of mine was 'Dead Celebrity Musical Statues'. Barbara indicated to the fabulous Stewart on sound to 'hit it' to music from recently deceased stars. The audience were to dance and play musical statues when the music stopped. It was highly amusing, especially when she got the final members of the audience to the stage for the last round. It was very entertaining to see Barbara dancing on stage along with the audience in their seats to music from David Bowie, Prince and even Cilla Black amongst other 'deceased celebrities'.
Barbara's infamous Christmas raffle took place at the end of the night. All the audience were given a raffle ticket when they entered the Quays theatre. Prizes included a Fray Bentos pie, a corgi statue with a lead in its mouth ('very rare and would be worth something on Cash in the attic'), a bottle of Babycham and a statue of a tortoise with three baby tortoises on top. The audience were in hysterics as she spun the raffle tickets in the tombola instructing them to sing, 'You spin me right round Barbara, like a raffle Barbara, right round' directed by Barbara.
In previous roles as 'Holy Mary' in the unforgettable 'Phoenix Nights' and 'Max and Paddy', not to mention playing Peter Kays mum in Coronation Street, Connolly's role as Barbara Nice, the Stockport Housewife extraordinaire is up there with the best of her characters. This character reminded me a little of the late Victoria Wood with a touch of Julie Walters thrown in. She demonstrated 'deadpan' Northern Humour that came from real life experiences highlighting her honesty and fine-tuned observation.
Her normality and proof that she was 'one of the people' even extended to the interval when she came out and entered the bar area with the rest of the audience, chatting to us as if we were all old friends.
The mood was joyous and upbeat in the theatre. She was able to ad lib like the best of them and dealt with all hecklers in an inclusive manner as the characters who heckled almost became part of the show.
The entire night was high spirited and jovial. It was full of laughter from all and provided a warm Christmas glow for the entire audience. Laughing from the moment I saw Barbara to the moment I left the theatre as she shouted to everyone 'Just go now, get out'.. as we left the theatre to John Lennon's 'So this is Christmas'.
I'm already desperate to see this show again.
Reviewer: Angela Kelly
Reviewed: 1st December 2017
North West End Rating: ★★★★★