Dave Spikey could be described as a veteran of stand up, performing his well-honed routines to audiences around the country ever since winning Stairway to the Stars and changing his life forever.
His latest tour, titled Juggling On A Motorbike tour looks back at his entire life taking the audience right back to his northern upbringing right through to modern day.
Spikey introduces himself behind the curtain and swiftly strides out to rapturous applause and gets straight to telling jokes, after the first 5 minutes I started to worry as the material seemed very dated, very predictable, thankfully Spikey later explained that he was starting the tour with his material from 30 years ago; it makes you realise just how far stand-up comedy has evolved and grown since then.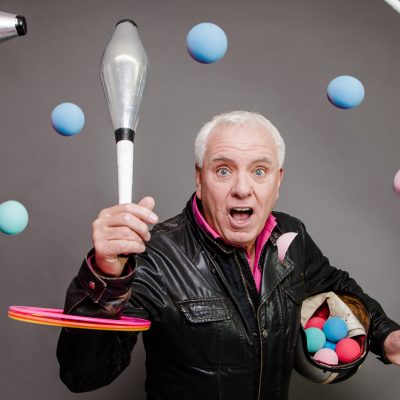 Spikey knows his audience and his material is based on a certain demographic and there's nothing wrong with that, but to me a lot of material went over my head as a twenty something who's never seen white dog poo.
The first half takes you back to Spikey's childhood and could be misconstrued as a memory test as Spikey asks the audience if they remember phrases your mother used to say or what pranks you used to pull, the audience seem to enjoy it and although there wasn't many belly laughs in the first half, it was enjoyable throughout.
Spikey has a natural gift in making the audience feel part of the joke and part of the action; coming across as a good friend in the pub, most evident when he gets his newspaper trimmings out and has a laugh with the audience over humorous headlines or tit bits that make you giggle.
The second half of the show seems a lot more structured and there's loads more laughs, fascinating insightful stories about Spikey's time on his first job working with animals right up to mispronouncing cumin on live television.
This tour felt at times like a stand up version of 'This Is Your Life' with Spikey analysing his life with the highs and the lows that led him to being where he is today, with a touching memory to his late brother who from the sounds of it, had a wicked sense of humour too.
There is no doubt, Spikey is a huge part of the stand-up comedy movement in the U.K. and although he'll reuse the odd jokes from tour to tour, the new material is just as good if not better than the old.
He's still needed in British Comedy, and still delivers a cracking show after 30 years in the business.
Reviewer: Max Eden
Reviewed: 1st February 2018
North West End Rating: ★★★★