After 5 years away from stand-up comedy Noel Fielding makes a huge comeback with his unique, gothic and hilarious new comedy tour 'An evening with Noel Fielding'. This very clever comedian certainly made his returning performance one to remember with his wit, golden comedy timing and strong opportunities for audience participation which was highly encouraged. I truly felt honoured to witness such a smart performance.
Adding to the madness of the show was Mike Fielding and Tom Meeton who supported Noel through the show and complimented the show with their animation. Also Tom's physicality throughout really made some good viewing.
Noel Fielding throughout of his career has built up a wide fan base which was apparent as the auditorium was full of a wide variety of people many of which came in fancy dress to mark the occasion. Noel is well known for his work in the Mighty Boosh in which he portrayed Old Gregg and co-wrote to name only one of his fabulous pieces of entertainment which has all led and clearly encouraged him to embark in this UK tour.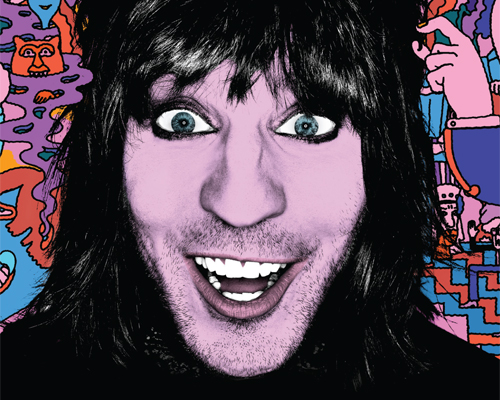 It's very easy to forget that Noel Fielding began his career as a stand-up comedian and we really mainly see him tied to a duo or company. It's obvious that a solo tour brings with it many new opportunities to try new things and experiment with new routines. I enjoyed his modern, childish sense of humour and also the musical elements he added for added variety. I will say the show as a whole lacked structure which while being an issue in some shows didn't seem to matter with this one as we appreciated the humour regardless of its order and the link from one punch line to the next. Noel is also very good at leaving his audience in anticipation and waiting for the ending of a story while cleverly swaying into another story and effectively leaving us with no punch line but still an unbelievably good amount of laughter.
Noel Fielding is bursting with colour and while bouncing of the support of his smart witted duo created us with a fantasy like no other as if we've been taken to another crazy dimension. To put it bluntly, never did I expect to be holding hands with fellow audience members with my eyes closed chanting about a 'fantasyland' but under the mercy of Noel himself we did exactly that. Followed by a more narrated second half where we experiment with the concept of Noel being captivated in a plasticine world.
All in all this is such a fun show and definitely a huge milestone in Noel Fielding's career. Anyone that knows his work will know how mad he can so should not miss this magnificent opportunity to see this genius live. If you've never had the honour before then open your eyes to a new adventure with an evening of faultless entertainment.
Reviewer: Jamie Greenwood
Reviewed: 10th December 2015