Tim Vine's latest comedy outing 'Sunshine Milk Idiot' is probably best described as an authentic 'old school comedy experience'. Don't be expecting long stories or any McIntyre type 'I do that' comedy. This is a show of gags and lots of them.
As Vine took to the stage, there was no part in the show where he wasn't telling jokes, coming in thick and fast, some brilliant, some not so good but most hit the mark and if they didn't as some didn't - Tim Vine picks up the audience straight away and makes it part of the set with a good deal of self-deprivation. I've had more punchlines thrown at me tonight at The Lowry than I have in all the other comedy shows I've seen this year put together, once he starts, he's a gag machine!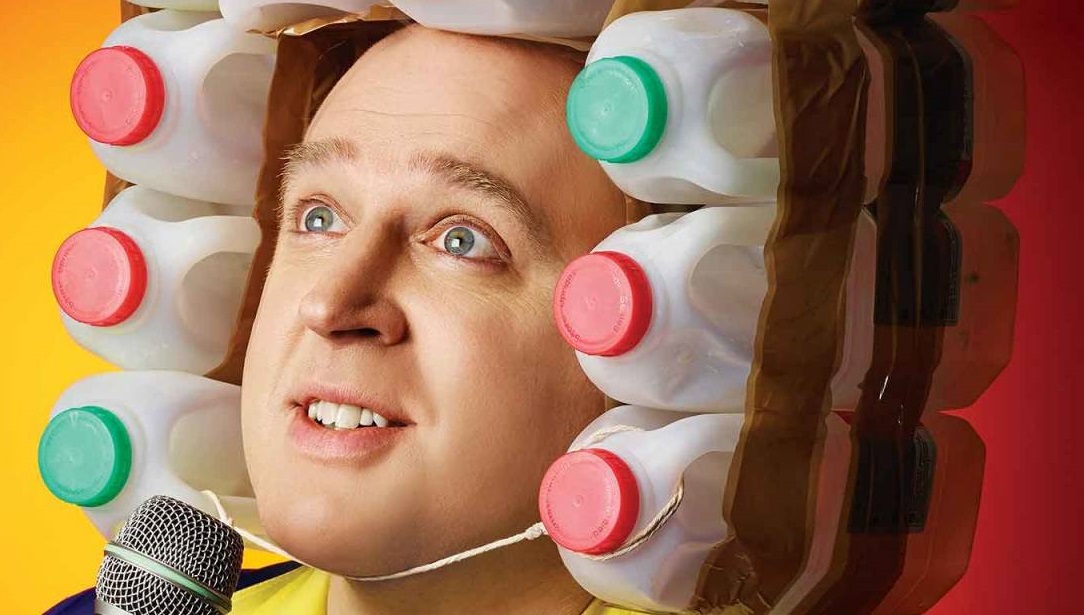 He's full of energy and in a set of just over an hour of the silly and the bizarre, he rarely stops for a breather, unless that is to bring out one of his homemade props, props which would be more at home in an episode of Art Attack than a comedy show are used for one or two jokes and then they are thrown to the side, the time and effort that must go into preparing and writing this show must be exhausting, but it pays off tenfold.
In this tour there is more music and song based jokes, surprisingly in a comedy show; he brings some old favourites from his previous tour like a greatest hits of comedy with 'pen behind the ear' returning with fans lapping it up. I can't think of any other comedian that would get away with redoing the same material but it just works with Vine.
The thing I found most pleasing about Vine's set is it's completely clean and family friendly. This a comedy show you could bring your kids and grandparents to and everyone would be laughing, his comedy and his puns are timeless and yes, it might not be the trendiest of comedy forms but his quick fire jokes were a big hit with the Salford audience.
Verdict: Tim Vine is a Gag Machine!
Reviewer: Max Eden
Reviewed: 16th October 2018
North West End Rating: ★★★★