Tom Allen is a comedian very much in demand at the moment. Switch on the TV and you're sure to see him on one of the many panel shows or live comedy shows broadcast, from doing stand up for over 12 years, Tom Allen has now been 'discovered'. His latest tour 'Absolutely' was sold out tonight at The Lowry theatre in Salford and I can see why.
As Allen takes to the stage is a prestige 3 piece suit, his dapper camp comedy formula is a sure fire winner and he pretty much gets away with anything as he picks off the front row with glee at the start of his set. Allen's on the spot observations are true genius.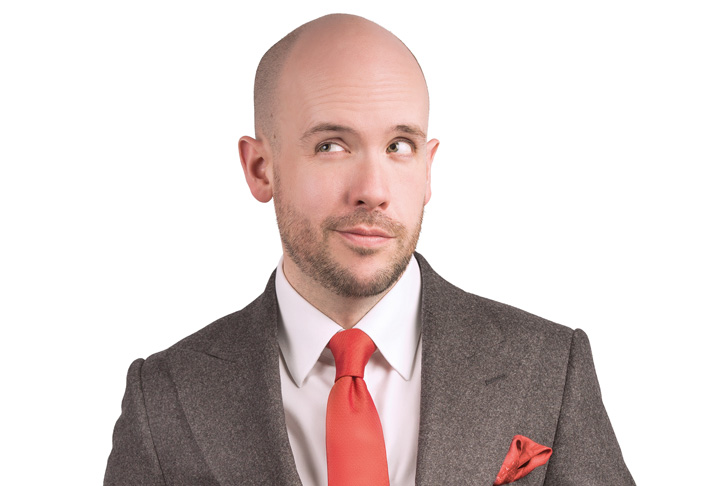 There isn't really a theme for this show apart from being loosely based on dissecting his life with observational humour and witty titbits throughout to back up his theory that he doesn't fit in with very clever anecdotes used when comparing his working class background and his well-spoken nature, he works this material to deliver every laugh he possibly can out of this family cultural difference and the contrast of him and his parents.
Tom Allen has clearly become a master of delivery in his years before stardom as his show tonight is as slick and polished as an arena show. The material is first class with his topics being relatable to a broad spectrum; routines about Children's birthday parties, Pizza Express Date Night and uninspiring hen do buffets all get big laughs from the Salford audience.
These routines often turn into well orchestrated rants which become somewhat of a trademark for Allen, my only criticism of these is they are sometimes too slick and artificial but regardless; they're still brilliantly witty.
Tom Allen's 'Absolutely' is wickedly funny and delivers a well honed show which will have you in stitches throughout.
Verdict: Absolute Comedy Gold!
Reviewer: Max Eden
Reviewed: 22nd October 2018
North West End Rating: ★★★★