As a newcomer to live stand up and comedy I was hesitant of what my thoughts may be of a comedian that isn't on the TV, but as I found out last night watching Alun Cochrane, as with everything else live - it's always better. The intimate and small setting of the Studio made it a great space for an uprising comedian, but that didn't put the fans off this comedian - it's fully booked for his weekend run before he goes on tour around the UK. It was my first visit to The Lowry (Strange I know!) but I was in awe as soon as I walked in, with the chic style and splashes of colour, it seems a great venue for wonderful theatre. A short set was demanded from the lively audience to be extended as we got an extra half an hour of comedy.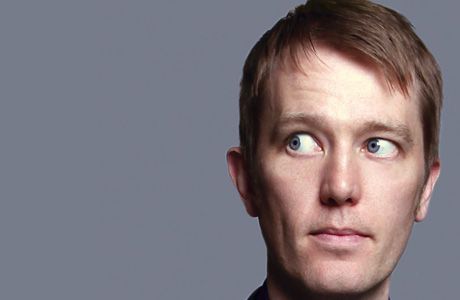 The beginnings of Alun's career started at The Edinburgh Festival Fringe show (Which he is always back by popular demand) - he's gone on to win numerous awards at The Edinburgh Fringe and he revealed that's mostly where he tries out his new show's first to see how the audience reacts. He's also building quite a strong resume with his television appearances which include Never Mind The Buzzcocks, Have I Got News For You, 8 Out Of 10 Cats, Mock the Week and Michael McIntyre's Comedy Roadshow. He has most recently been seen on A Gert Lush Christmas - a new Christmas comedy by Russell Howard. He has more recently been heard on the Radio, being part of Frank Skinner's Absolute Radio show which on the show he's referred to as The Cockerel.
As Alun Cochrane casually walked onto the stage, the audience were at ease at once. He's a great northern comedian that brings jokes to the everyday life. His subject matter ranges from Marriage, Parking, Wisdom, Free Pizza and The little joys in life! Some jokes may have been to tongue and cheek for some audience members but to others it was entirely hilarious. Also, he talked on how the greatest moment of his life was whilst "eating free pizza whilst someone counted £20 notes" into his hands! Another highlight of the show stems from himself describing how he may be the most boring man in the world - a slight shriek from the audience - but sure enough he kept them laughing from start to end. Overall I think the best thing about Alun is his way to communicate the real thoughts of an audience and have the confidence to say it out loud - something some comedians are afraid of doing. His show goes on tour from now and opens around the UK - if you get chance to see him, get tickets! As this is certainly a fantastic uprising comedian that we will surely see a lot more of.
Reviewer: Brad Wilson
Reviewed: 9th January 2016