I have to here admit to a huge omission in my cultural experiences by saying that despite living so close to The Comedy Store for such a long time, last night was the first time I had ever ventured inside; however, now that gap has been filled and rectified I shall not be a stranger there. My first impression upon walking into the venue was just exactly how spacious and clean the whole place was. It's rather American in principal... a long bar down one side with lots of aluminium and theatrical style lighting, modern pop music playing (thankfully not too loud.. this was real background music), and all the staff in black logoed t-shirts. I have to admit to thinking I might have heard a 'have a nice day' from one of them, but was very relieved when I didn't!
Inside the theatre itself, and yes, it is a theatre. There is a stage, albeit very small, and around it in traditional Greek amphitheatre fashion are rows of seats. It doesn't go very far back, but it's very wide, and extra seating is catered for by two galleries on either side. It is therefore both extremely intimate and has a large capacity at one and the same time.
This was a Sunday night, and was an event called 'New Stuff'. So it's a bit of a lottery really in the sense that no comedians are advertised, you just turn up and take pot luck! These events though are actually an extremely good idea, and must be most useful to those comedians brave enough to walk on stage. The idea behind these evenings is for any comedian, either wet behind the ears or an old hand to take ten minutes of the audience's time to try out new material, stuff that they have never tried out before. What this means is that the comedians can gauge real audience reactions to their material before they include it in their act. Some walked on stage with notebook or clipboard in hand with their scribbled notes on, some having been written only moments before in the dressing room! That's how new this material really is! It is actually a very exciting premise and I felt privileged to be amongst the audience and to a part of the 'judging' process of whether or not the comedians ticked their joke or threw it away in disgust after leaving the stage. They were all very brave to do this, but by doing so they can only improve and hone their craft, and where better to do it than in a safe environment specially created for such an event, but with a real audience of comedy lovers who understand the process and why they are there.
Last night there were 9 such acts to get through and the evening started at 7:30pm, and with an interval which lasted way too long, the evening didn't finish until 10:30pm which was a little late really, but I actually didn't really mind so much since the experience was one I really enjoyed, and I am given to understand that 9 acts is not the norm, so we got to see and hear more for our money I guess!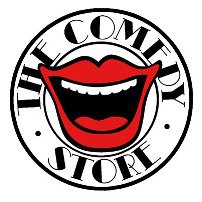 One word of negative criticism here though. This is for all comedians, great and small alike. Is there really any need for profanities in every sentence? I am no prude, as those who know me will testify, but I really don't see that by adding the F word to a joke makes that joke better or funnier. In fact, it does the exact opposite. If the swearing is necessary to the joke, as sometimes it is, then no problem; but just to walk on stage effing and jeffing your way through a set does absolutely nothing for me except turn me OFF! Or to simply swear if something doesn't go quite according to plan, or when you forget a line etc, is again, perhaps, forgivable; but please, please, please don't overuse our Anglo-Saxon words; they are very old and feeble, and need to be looked after, not scattered all over the place like chicken feed!
Ok, back to the menu.
The whole evening was compered by Dave Williams, who himself is a regular stand-up on the circuit so I am told. I've never seen him before, but he (minus the swearing) made for a very entertaining and personable MC.
In the first half we were treated to 5 acts; and I hope I have managed to get their names correct, since without programme or prior knowledge I am somewhat lost. However, here goes... Justin Mooehouse, whom I was ambivalent towards; James Mehan, who had a couple of good ideas which certainly could be developed into part of his routine. One about alphabet dating and the other a rather interesting snippet about the Dalai Lama; Sam and Tom, a bizarre and unusual double act of very young comedians, who were in fact, highly entertaining with their zany and physical style. Something that needs a little work in making it tighter and smoother, but for my money, the funniest act of the evening. Moreover they chose not to use the microphone, unlike everyone else. This made for a much more theatrical performance and was more entertaining because of it. Then came Tom Little, who, when he first started I thought he couldn't spell, but by the end of his set he had nicely backtracked and we saw that him missing the H from yoghurt was deliberate. A nice idea. He had though a very unerring and strange high-pitched voice which really irritated. I wasn't certain if that was a voice he uses for his act or whether it is actually his real voice. If it is the former, I'd drop it. Finally in the first half came Danny Sutcliffe, and I think the less said about him the better. Obviously comedy. Like all The Arts, is very subjective, and so it's all down to personal taste; but sadly he left me cold.
In the second half we were first subjected to a loud and angry comedian, Monty Burns, who did a lot of shouting. He cut a rather imposing figure, tall and muscular with large tattoos, and then, he stood there ranting, even picking on individual audience members, and getting very close to one young man in the front row, only inches from each other's faces, and shouted at him. Mr. Williams, the compere, was smooth and quick enough to make an impromptu comedic apology for that afterwards, which was lovely, but when comedy becomes threatening, which that was becoming, it's time to head for the hills! Following this, and bringing a much needed ray of madness to the stage was the first comedienne of the night, Harriet Dyer. With her contortionistic body language and utterly bizarre routine of song, poem and confusion, you couldn't help but laugh at her; sadly though, I wasn't laughing with her.
All around the building there are signed photos of the famous comedians who have graced the Comedy Store stage over the years, very young looking images of Alan Davies, Jack Dee, Jo Brand, Jason Manford et al.... so it was a huge surprise to find that tonight we were going to be treated to try-out material from two of such alumni. These are true 'Bob Monkhouse comedians', they never stop researching, learning and aiming for better. My hat goes off to both of you! In the words of the great Dame Judi Dench (OK, she was talking about acting but it still applies here), the more you learn about it the more difficult it becomes, and there's never an end to the learning.
The two celebrities in question were Gary Delaney, who was trying out some more of his trademark one-liners and clever puns, and Sarah Millican who again had notebook in hand and gave her new material its first airing. Fantastic. I like Mr. Delaney's comedy style very much, and enjoyed watching him last night. I have to admit though to not being a fan of Ms. Millican. I never have been, sorry. However, last night I was much impressed by the take-me-as-I-am look, not trying to impress in any way. It doesn't make me a fan, but it does make me admire you a little!
Thank you Comedy Store, for providing this kind of event. It is such a wonderful idea, and I applaud everything about it. Long may it continue, and I hope to see you again soon.
Reviewer: Mark Dee
Reviewed: 10th January 2016