Most people will know Dave Spikey because of his friendship and his work with Peter Kay – That Peter Kay Thing, Phoenix Nights. A few will know him from his time on 8 out of 10 cats (before Jason Manford, then Jon Richardson took over - if you can remember that long ago!!) Some might remember the short lived Bullseye revival and some might even know him from his own stand up. Starting stand-up comedy in 1987, it is now Spikey's 32nd year in the industry and this is a show to celebrate that and a retrospective of which aspects of his life, lead to this moment.
He starts the show by reading headlines from local newspapers that he's come across during his time on this tour. Headlines with double entendre or stories that have made him laugh. A woman who managed to steal £246 of groceries from Aldi, it an unresponsive hamster. Once he's run out of these, it's on to the main body of the show.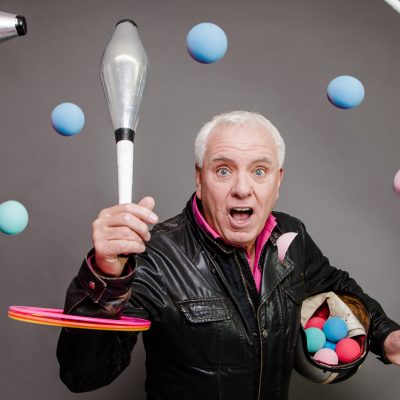 He talks about his time growing up, being looked after by grandparents whilst his parents were at work. We find that he was an inquisitive child, and this has led to him being an analytical adult. We find out a lot about Spikey from his stories – he passed the 11 plus and was studying to become a doctor when he had to drop out of school and find a job, as his dad was injured in a work accident. He talks about his job as a lab technician, a position he held for over 30 years, until he left in 2000. He also touches on his vegetarianism, with a funny anecdote from an appearance on James Martin's Saturday Kitchen. He also touches on the reason why he suddenly disappeared from TV and comedy, with no warning and why he came back to the comedy circuit a year later.
This was a thoroughly enjoyable evening, with lots of laughs from the moment that Spikey walked on stage. It has been very well thought out and well put together. Spikey is an instantly likeable man, putting the audience at ease, with his ancestors about his working class background. There's jokes for everyone, with the occasion blue joke but it's a fun and laughter filled evening that all can enjoy. Whether you know a lot Spikey or not, everyone can take something from his life story, or see where aspects of his life apply to theirs.
Reviewer: Jenn McKean
Reviewed: 24th January 2019
North West End Rating: ★★★★★