Dave Gorman is difficult to pigeonhole. He was initially a gag writer for TV shows, but first came to fame in his own right when he set himself the task of meeting as many of his namesakes as possible, dragging his unwitting flatmate, Danny Wallace, around the world with him. (Are You Dave Gorman?)
He is a comedian and social experimenter; an observer, commenter and critic of the medium we know as television and of modern culture in general. Most recently he has presented the hugely successful TV series Modern Life is Goodish, described as a "stand-up style documentary", which – like tonight's show – is "broadly about the misinformation and nonsense we have to wade through daily in this technologically advanced, wonderful – yet flawed – world of ours."
The Lyric theatre at the Lowry is full and Dave bounds onto the stage in one of his trademark chequered shirts. He is immediately likeable. He speaks very fast and he speaks a lot – and he has a lot to say. To my delight, he tells a woman off her using her phone during the gig. He promises the audience the world's best giraffe joke in the second half of the show, but is just here now to introduce his support act and throw in a bit of banter about introductions, in particular in relation to Brain Conley's The TV That Made Me, which is apparently a daytime TV chat show. Dave Gorman does seem to watch a worrying amount of daytime TV.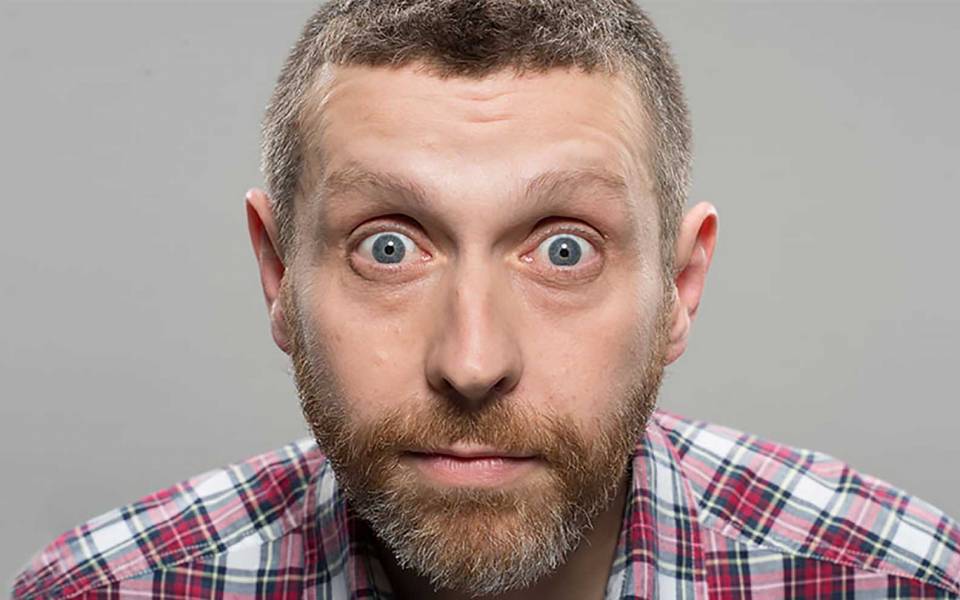 The support act is comedian Nick Doody. Rather than being a dull filler you have to tolerate to get to the main act, Nick is very funny. He recently moved to Hebden Bridge, which "floods regularly and has a higher lesbian population than Lesbos. But the dykes don't stop the water." He is a conventional stand up – in that he doesn't wear chequered shirts or use PowerPoint. He talks about Donald Trump and Theresa May, but about their characters not their politics. He does several songs on the keyboard, including a slightly worrying teenage love song to the caped crusader, Batman. His songs and playing style I found very reminiscent of Victoria Wood. He is clearly a very talented pianist; the middle-eight of one song includes a brief foray into jazz. He seems very warmly received by an appreciative audience.
After a short break, Dave Gorman comes on to give us his outraged yet humorous views on all manner of disparate subjects that have been annoying him recently. He is hilariously pedantic and highly intelligent. The things he picks on are usually not huge events or issues, but often the minutiae of life, such as toiletries, moving to Bournemouth, grammar and especially TV shows, daytime TV – again – namely Cash in the Attic. He talks about his stint on a celebrity edition of the quiz show, The Chase, on which his team won a fortune for charity, mainly down to him.
He briefly and expertly tackles another woman for using her phone, with a "reported" put down. "The phone lights up your face… and you haven't got the face for it."
The Daily Express gets a well-deserved bashing, because of their completely fabricated "news" stories, which he superbly documents and illustrates. Every point he makes, no matter how casual, flippant or throwaway it might seem, is suddenly backed up on the screen behind him by carefully researched statistics, graphs and diagrams. If there's a point to the show, he tells us, it's a call for honesty, for newspapers and TV shows to stop making things up.
One of the highlights of the show, comes when he performs a "found poem", as made popular on his TV programme. On a darkened stage with just a spotlight on his face, he narrates genuine quotes relating to a subject, in this case the Royal Wedding of Prince Harry and Meghan Markle, which is hilarious. He also breaks down half way through in uncontrollable laughter.
The evening is rounded off with both Dave and Nick Doody returning to the stage. Nick accompanies him on the keyboard for another found poem, this time about the issue of Australia being allowed to enter the Eurovision song contest. Yes, it's a minor issue, but it seems to have caused much outrage and controversy. Again, this was side-splittingly funny – for him as well – and was possibly the apex of the evening.
The audience were asked not to reveal spoilers and not to discuss aspects of the show, which would ruin it for others, so I haven't. I will just say Dave Gorman is immediately engaging and immensely likeable: he could talk about anything and make it amusing… actually he does talk about anything. And everything. Quite quickly. This is a great show by a naturally charismatic entertainer. And pedant.
Oh, and the joke about the giraffe alone is worth the ticket price.
Reviewer: Gray Freeman
Reviewed: 3rd February 2019
North West End Rating: ★★★★