Best known as the host of Radio 4's Infinite Monkey Cage, where he plays Eric Morecambe to Professor Brian Cox's André Previn, Robin Ince actually made his name as a stand up comedian, and in many ways remains his day job. It must be strange for him to be much better known for what is really his secondary career. When the Monkey Cage goes on tour, they're capable of selling out arenas; but as Ince admits, in some towns he sells exactly the same number of tickets every time he goes – the same people go to see him every time.
Enjoying stand up comedy is highly dependent on personal taste, and Robin Ince's material, won't be for everyone, as he himself admits. He claims his four major demographics are Goths, librarians, physics teachers, and keen knitters.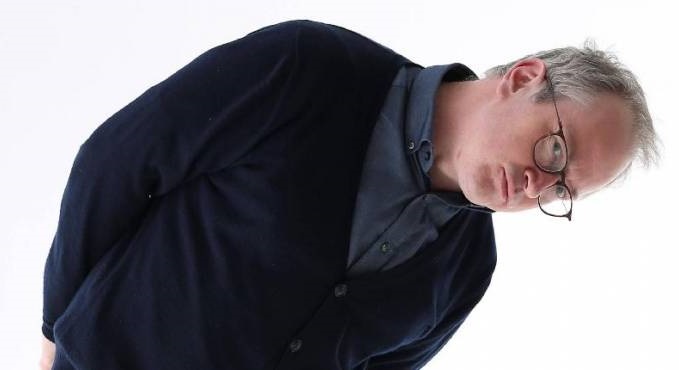 For all that, his style is reminiscent of Billy Connolly – high energy, barely stopping for breath, anecdotes upon digressions, all sewn through with a thread of positivity; looking at the mess that is the world and concluding that all you can you do is throw your hands up and laugh at it.
This show is called Chaos of Delight, and the intention is to encourage the audience to find the beauty in life in these dark times. So the audience is given a slide show including old public service films and horrendous-looking recipe card for spam. Whatever show Ince has planned, what he delivers is a lot of chaos and plenty of delight. The unusual side-job, and the roaring success of it, gives rise to very fun anecdotes about the meeting of the worlds of comedy and science. He tells of booking Stewart Lee with a group of aerospace speakers at the Royal Albert Hall, and watching in horror as Lee followed someone from the Apollo 8 mission by delivering a fifteen minute diatribe about how rubbish astronauts are.
As unplanned as the whole thing seems, a thread that runs through the evening is the father-son relationships between Ince and his ageing dad, and with his own 11 year old son. Adventures in the woods with the latter; the mundane task of persuading the former to throw out old tins – Ince treats both with a sense of wonder and fun. If you don't fit one (or more) of his four demographics, you may be missing out, because Ince finds the fun and adventure in just about everything, and he's a natural stand up, even if he's known for something else.
Reviewer: Steven Ireland
Reviewed: 11th March 2019
North West End Rating: ★★★★