Which comedians start their show with an interpretive dance to 'Let it Go' from Frozen? The comedians that allow their teenage daughters to name their show and give their fathers suggestions for input too – that's who. Hal Cruttenden, known for appearances on Mock the Week, Live at the Apollo and The Great British Bake Off: An Extra Slice, has done exactly that. Asking his daughters what word they think of when they think of him and using that word to name his tour. You'd be forgiven for thinking that his show would mostly be a discussion and thoughts on weight, but it isn't. There are mentions of course, but his show is about his ponderings of life, getting older and the current state of the world we live in.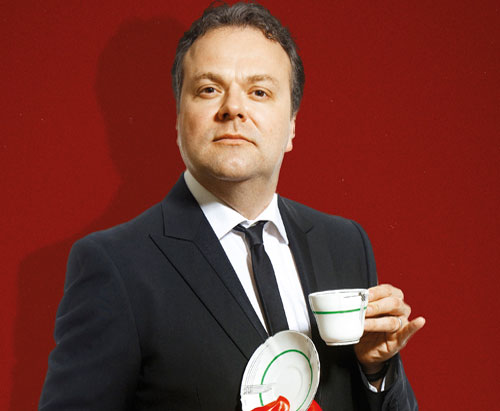 As with most comedians, Cruttenden makes commentary on his audience, and there was a lady on the front row who bore a striking resemblance to his late grandmother. Therefore, throughout the show he kept referring to her as 'Grandma' and her husband as 'Grandad' (even though they looked nothing alike!) He also made reference to another gentleman who reminded him of Alan Bennett, whose name was actually Alan! He also made plenty of references to the local area, and because they were so true, it made the jokes funnier and most of them landed well with the audience!
Anyone who has seen Cruttenden on television will know him for his campness and his voice, and these are still prominent in his act, and at times makes jokes funnier, especially when he's referring to football chants and hooligans, as his persona is definitely not one you would associate with these sorts of things. He also references the differences between football fans and rugby fans, as he's a season ticket holder for the Saracens Rugby Union team. Of course, with being up on Merseyside, he couldn't be talking about sport and not make reference to Liverpool and Everton (his preference being Liverpool because of the colour of the kit!)
His references to politics and his opinions on politicians around the world are seemingly popular with a lot of the audience and his musings and debates on twitter get the reaction they fully deserve. He tries to talk lovingly about his family, after being given warnings from his wife, and he mentions the awkwardness of being in social situations with his daughters, especially in this day and age, with older age gaps in relationships, something I've experienced myself, with my own father!
His language was mostly clean, with a few swear words in some places, but on the scale, he's probably closer to Michael McIntyre than Frankie Boyle! It was an evening filled with belly laughs, and was not at all how Cruttenden, himself stated: a sh*t show, but Hal learned a lot!
Reviewer: Jenn McKean
Reviewed: 30th March 2019
North West End Rating: ★★★★