I stepped in at the last minute to review this due to the indisposition of the original reviewer, and although it meant another late night and added stress, I was actually quite happy. I have seen Mr. Delaney on TV several times, as he is a regular guest on shows such as Mock The Week. He also writes for 8 Out Of 10 Cats.
I also had the fortune to see him live in an unexpected appearance at The Comedy Store a fortnight ago where he was trying out some new material, and liked his rather blasé and take-me-as-I-am approach.
What would he be like in his own show? I was about to find out. In fact, most of us found out a lot sooner than expected. The audience was amassing at the foot of the stairs leading to the studio theatre at The Lowry, Salford, and we were aware there was a slight delay since Mr. Delaney had not yet arrived. The show was due to start at 8pm and we were queuing there at about ten minutes to, so he was cutting it fine... when suddenly he walked down the stairs and through us., only to come back some minutes later with a Chinese take-away in hand! His extremely personable and immediately likeable character shining through as he bantered and joked with us, apologising for being late and not having eaten. It was genuine, it was not a set-up or part of his act, and it was lovely.
Needless to say his show started a little late because of this but no-one really seemed to mind.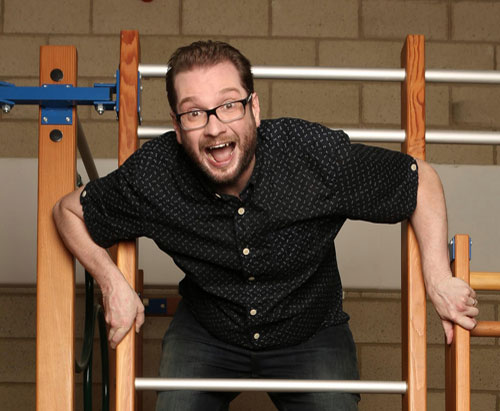 Mr. Delaney started the gig with a little warm-up routine to perhaps just test us, the audience, at what we were likely to find funny, so he could maybe readjust his sets accordingly; and also to introduce his own warm-up comedian... or support act as they prefer to be known! Mr. Delaney's opening banter though put me off him immediately. Despite all the good work he had done quite accidentally and naturally prior to the show, once on stage he couldn't refrain from using the F word or other similar vocabulary at least twice in every sentence. I was thankful when he left and his support act came on! No need sir... your comedy is good, your material and style are good, and your personality as I can now attest to is real and friendly. Don't cheapen yourself or your material with such pointless profanities!!
His support act was a comedian called Andy Robinson, who was not particularly funny. He did get some laughs from the audience but nothing that would fall into the belly category! His material was weak, and as he himself even admitted, he liked to try out new things and experiment a little with his material, basically because he can! He's an unknown uncredited support. His set went through such things as multi-culturalism and racism, (because he was from Birmingham), drugs, Elvis and tampons for men! I will credit him though for two rather noteworthy jokes which were in themselves very funny. (Shame about the rest of his material... but still...). The first was a very good parody of Paul McCartney singing 'When I'm 64', and the other a joke about the black kids no longer having to sit at the back of the bus.
After the too long interval Gary Delaney reappeared and did an hour-long set. Surprisingly with very little swearing! Is he also a mind-reader now too??!
He is known for his acidic wit, clever one-liners and dead pan delivery. Although even when the camera doesn't zoom in, you can still see the wry smile behind the mask, and this evening he let that mask drop completely. He chortled and snorted his way through his set, chatting to us between jokes, and having just as much fun with it as we were. The dead pan image being totally forgotten, he just stood there and made us laugh, making himself laugh in the process. It was a rather joyous and lovely occasion. So few comics have the ability to be so self-effacing and immediately likeable.
Of course he still delivered many one-liners, and there was seemingly no through-thread to any of his banter, but there must have been some logic to it in his head! It was also a little thrill for me too, since I heard a couple of jokes last night that he tried out only a fortnight ago at The Comedy Store, and has obviously since included them into his set.
His material is always very near the knuckle - sexual innuendo, slightly racist, sexist, and blatantly euphemistic - but never offensive.
In amongst the verbal jokes, he added some visual ones too. Behind him was a screen and in Dave Gorman fashion took us through first, some of the photos he'd taken of things which amused him, and second his own bastardisations of definitions on Wikipedia. These were all clever and funny, but I still preferred his stand-up material.
I'll finish my review by writing my three personal favourites from the one hour onslaught of comedic madness, told in an unassuming and most natural way by a comedian I now have much more respect for.
1. There is one thing I don't like about Hallowe'en, which is.......!! (You need to read that aloud!!)
2. We called our forth child Ivy. It's not her name but we just loved Roman numerals! (Think about it!)
3. Twerking is what Yorkshiremen do to earn T'wages!!
Unfortunately there was nothing at The Lowry in way of publicity for this tour, and so sadly don't know where he will be next, or how long the tour lasts. But if you are able to catch this show, then I guarantee you won't be disappointed.
Reviewer: Mark Dee
Reviewed: 24th January 2016