One of the cornerstone venues of Manchester comedy, The Frog and Bucket is a hive of activity on a Friday night. The regular weekend Barrel of Laughs show has the room packed out with after-work drinkers and excited birthday groups, the alcohol flowing freely and everyone determined to have a good night. The first club was opened in 1994, and since then many successful comedians have been through the doors, including regulars Peter Kay and Johnny Vegas, and John Bishop, who performed his first ever gig there.
Tickets for comedy gigs of this nature - around the £20 mark, and even more on a Saturday. However there are food and reserved seat packages available, and although I didn't have one, the pizzas looked amazing! I was shown to my seat on the 'VIP' bench near the bar, which unfortunately meant a blocked view from noisy latecomers! The glass of bubbly delivered halfway through the night was a nice touch, however.
On to the show and our compere, Preston's own Phil Ellis. He went straight into some audience banter, getting to know lots of the people in the room between each act, and allowing the relaxed conversations to get everybody in the mood. Having seen Ellis before I felt he was missing his usual slightly chaotic style, and he certainly had his hands full trying to control the noisy crowd as the night went on.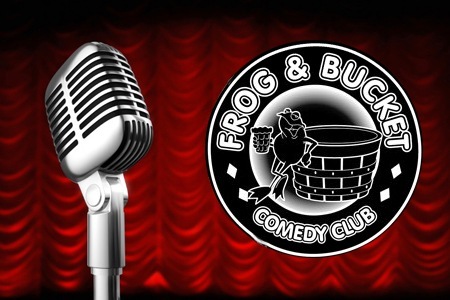 The first act was Canadian lad, John Hastings. His somewhat self-deprecating style was quite endearing, with his tales of premature birth, his struggles with dyspraxia and childhood bullying. He was able to cleverly link this with more universal observational comedy to which everybody could relate. Having lived in the UK for four years now, he made some very amusing comparisons between this country and his native Canada, successfully making us laugh at ourselves without being offended (although his reference to English football might have been one step too far, judging by the boos in the room)! Unfortunately his slightly long-winded tales were interrupted several times by cocky audience members, but he handled the hecklers very professionally and shut them down quickly!
Next up was the incredibly Northern Steve Harris, who is clearly a seasoned professional, and had the audience eating out of the palm of his hand within seconds. His somewhat clichéd material was just on the right side of offensive, and pitched perfectly to the drunken crowd, who absolutely adored him! He bears more than a slight similarity to Jason Manford, with his relatable, Northern working-class humour, but I would certainly pay to see him again.
Our final act is Jeff Innocent, looking, in his own words, like a lost audience member who shouldn't be on the stage. Eccentrically dressed in a tracksuit top with suit trousers, this skinhead Cockney looks very intimidating, but is very friendly underneath the tough exterior. Some of his material is a bit below the belt, but it seems to work for most of the crowd. He is a great story-teller, but I couldn't help but feel he comes across as an opinionated, political comedian who was having to dumb down his material for the audience. A shame perhaps, but I guess you have to play for the people in the room!
Overall it was an enjoyable night out, and would be a great place to go with a big group of friends.
Reviewed: 5th February 2016
Reviewer: Poppy Stewart