The Comedy Store Manchester, The Best in Stand Up is a regular feature on the Friday and Saturday night entertainment rota.
Reviewing at the comedy store stirred a little apprehension for me, a middle aged woman, entering in to the hustle and bustle of Manchester city night life on a Saturday night. A place I naively viewed as exclusively for the young, as it is situated in Manchester's' fashionable and trendy Deansgate Locks. The Comedy Store is a TARDIS-like venue; its glass fronted entrance gives an illusion of a small intimate venue. On the contrary this vibrant venue has a wealth of space for casual and al la carte dining as well as a spacious bar area and a more than adequate theatre-styled auditorium with a seating capacity of 500.
The Comedy Store opened in September 2000 and since then has threw regular comedy events that offers the best in stand up for a range of ages. Tonight's audience ranged from late teenager's to great grandparents and the dress code seemed to be 'anything goes'. Food and drink was available from restaurant dining to bar/informal dining which added to the evening's options for an all-inclusive venue. The evening promised an evening of laughter from 4 very talented comedians and this was truly delivered.
The night kicked off with Mandy Knight as host and compère, a comedian said to be one of the most respected and loved stand up in the business by fellow comics, promoters and punters alike. With almost 20 years of experience it was hardly surprising that she delivered a confident and tight MC position, keeping the audience in check and warmed up for each performer. I have to admit to not really connecting with female comedians as I find the profanities uncomfortable and unnecessary when delivering stand-up comedy, and sadly Mandy was no exception. Obviously very funny and a talented experienced comedian but for me her comedy style was a little too blue for my taste.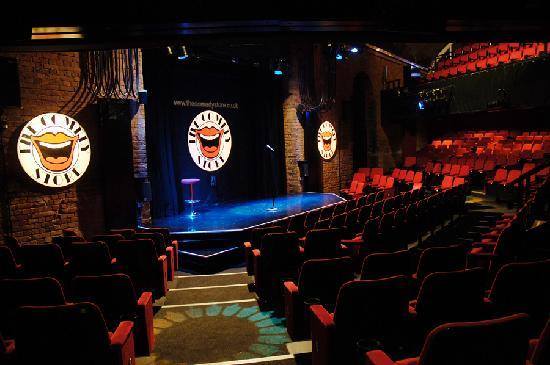 The first act of the evening was Sean Meo a Cockney stand-up comic since 1989 who was refreshingly funny without profanity or expletives. His humour centred on everyday life including wife jokes, and some excellent observational humour.
Second up was Steve Royal a Northern comedian, actor, writer, juggler who recently became a regular presenter on BBC radio Lancashire. Steve comes with a huge résumé of comedy achievements to his career to date. This performer was spectacular, funny unique and very versatile in his showmanship. Juggling not only with batons but also his mouth ping pong act was the highlight of the evening for me. His jokes were clean slick and very relatable.
Following a 20 minute interval and an opportunity to sample the delicious stone baked pizzas the second half was started by Jarlath Regan an insanely talented young Irish comedian who again was hilariously funny without profanity using every day relatable stories to tease out the funny in everyday life situations, such as life with children being married and the constant battle to keep fit.
Closing the show and the final act was from the extremely experienced and funny Jeff Innocent an East London performer who regularly performs in countries as diverse as India, Dubai, Japan, Norway and China to name a few. His unique appeal lays in the contrast between his likable rogue persona and his intelligent, educated take on the world.
All in all I think the comedy store is an amazing venue in the heart of the city that is well worth a visit. It is great value for money, and has the friendliest and most helpful staff I have ever met in a busy city centre venue. Its ever changing line up of comedians' guarantees fresh material and a different experience on every visit. Tonight's stand-up was a belly laughing experience; it is said that laughter is the best therapy and a tonic for the body and mind, so I won't be a stranger to this venue from now on and I would highly recommend it to anyone who fancies a great night out.
Reviewer: Victoria Wilmot
Reviewed: 20th February 2016