Debra Stephenson is a jack of all trades. She cites herself as an actress / impressionist / comedienne / singer. Unfortunately she is a master of none. Stephenson gave herself a rather ambitious task of attempting 100 voices during the course of the show. I would applaud anyone who can do an impression of 100 people, and while Stephenson does try her best, some of them fail to hit the mark.
The first half of the show is a trip through the decades. Starting from the 1950s working up to the present day, Stephenson sings some classic songs from the eras and stopping to tell of us some of her celebrity friends that couldn't make it. While I was aware of most of the impressions Stephenson did, there were a few I was baffled by as I couldn't think of who they were.
Stephenson has a good singing voice, however it doesn't lend itself naturally to some of the singing impressions she does. She does a good impression of Tina Turner and Britney Spears, but when it comes to the singers with a better range such as Adele or Celine Dion she was out of her depth.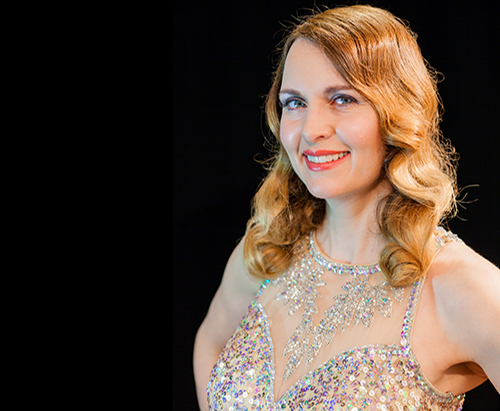 One of the problems with the singing impressions is that it was difficult to tell if it was an impression, simply because that celebrity isn't that famous or doesn't possess any well-known characteristics. For example, Stephenson did an impression of Shania Twain. I haven't heard anything by Shania Twain in years, so I could not tell if that was an accurate impression or not. It would probably be more beneficial to pick celebrities who are trending today or timeless classics; which were included in the form of Margaret Thatcher, Cher and Cilla Black.
Stephenson does a great job of not just impersonating a celebrity's voice, but also their body language and gestures. This shines in particular with her impressions of Davina McCall and Holly Willoughby.
During the show there is a slideshow projecting onto a screen on the stage, so the audience know who Stephenson is impersonating. Halfway through the first act the slideshow stopped working, but Stephenson carried on as if nothing had happened. The slideshow did look a bit messy at times. It was clear that images had just been copied and pasted. There were also some misspelt names and messy formatting. As this show is touring some great venues, I would have expected something a bit slicker. However, this can be easily amended before the next show. There is always the possibility of getting rid of the slideshow all together; an impressionist shouldn't need to tell the audience who they are doing an impression of.
Although Stephenson cites herself as a comedienne, some of the jokes fell a bit flat. Many of them referred to the size of the male anatomy, which got pretty boring very quickly. However, she did have some good material for her impressions of Jo Brand, Anne Robinson and Nigella Lawson.
This was the first performance of the show before Stephenson embarks on a national tour. She did a good job for most of the show, however it was clear she lost her way a bit in the second half and had to ask her band what was next in the running order.
Personal highlights were Stephenson's impressions of Stacey Solomon and Paloma Faith. These were so good that if I closed my eyes I would be convinced that I was in the same room as them.
Stephenson will visit various locations across the UK as part of her tour.
Reviewer: Brian Madden
Reviewed: 21st February 2016