The Frog and Bucket comedy club sits on the far edge of the Northern Quarter in Manchester city centre and was one of the first venues to open in the now creatively bustling district.
Plenty of famous folk have played the Frog including John Bishop, Lee Mack, Dave Gorman, Chris Addison, Ross Noble, Steve Coogan, Caroline Aherne, Lucy Porter and Jason Manford.
The club is open four days every week. Friday and Saturday nights are the fun packed end of the week shows then there's Thursdays for a more sedate, connoisseur led show. On a Monday it's still the newcomers turn as they attempt to 'Beat the Frog' by staying on stage for 5 minutes without getting 'croaked off.' Plus there are many special nights every month including Laughing Cows all-female comedy night, solo touring shows, themed and charity nights.
The club has always prided itself on supporting northern acts. Comperes are invariably northerners and the club always employs northern comedians alongside many guest acts. It sits perfectly alongside the London based, Comedy Store, the only other dedicated Manchester comedy venue.
The Frog and Bucket provides a place to nurture new talent, for Manchester to check out the stars of the future and to see those acts that though they aren't a household name now they are at the grass roots of truly fantastic and exciting live stand up. The venue is an open bar with rows of tables and chairs perfectly aligned, with a bar menu of Pizza, Burgers, Side Snacks and Shares. It could easily be mistaken for the student's union as the audience is 90% students from various universities in the city. However there is no mistake to say that the bar prices are far from student rates with a hefty price for pint of beer or glass of wine.
First up was the host Pete Otway a young northern lad who eased the crowd into the evening promising the audience a fun filled evening of comedy.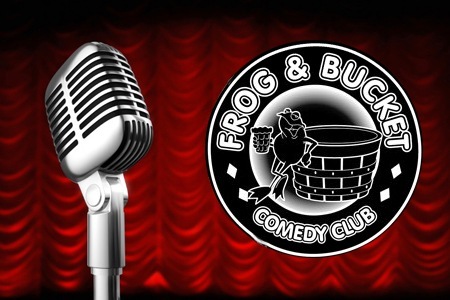 Peter Brush an awkward young man who played the negativity role whilst relaying tales of his childhood, jobs and dogs. His engagement with the audience was one that made you feel like 'oh no what have I done, I will never get those 10 minutes back'. Next up James Mehan a fantastically funny working class northern chap who had the audience wanting more as he told his tales of his family of Irish decent and her disability, religion and reality TV and finished with his Lilt drinking drug dealer story – very refreshing.
Final act of the first half was a guy not on the original bill called Mark with his notes in hand conveyed his Christmas and Gyms stories. The tale of wearing glasses and peoples responses was classic and funny. Flood victims experiencing 'dry January', food 'best before' being labelled more appropriately as 'shit after' , lying to the dentist and finally the tale of his 4 year old daughter Ella's letter writing to her class mate was extremely funny and ended the first half on a high.
Second half started with Clayton Jones note pad in hand took the comedy line to terrorists, beard oil and smoking jokes all funny and perfectly delivered ending on plastic cakes and 5p bags had the young audience in his hands.
Sophie Willan the one of the two female of the evening described tales of being a child in the social services care; the jokes were awkward as she told stories of drug addicts, drunk in a bikini in Bolton and rebellion. Wasn't sure what therapy she needs but it certainly isn't stand-up comedy.
Final for the second half was Gary Delaney the highlight of the evening who really represented what the night was all about 'testing new material' with his clipboard in hand he reeled off 3 pages of jokes testing the laughter - Lots of amazing material this is the guy to watch in my eyes.
By the third act most of the young audience had left, I think the' Lemonade' was too much for them as they staggered off home to their halls of residence.
Harriet Dyer the final female using her note pad and phone to record the laughter to test her new material she delivered jokes about inspirational quotes, poems 'alone' and 'alone 2 lost in New York'. 'Techno - Techno -Techno' and 'I'm as serious as cancer when I say rhythm is a dancer' had me ready to leave as she stood on stage – coats at the ready.
Phil Ellis closed the evening with his notes at hand destroyed the end of the evening with his drunken jokes, awkward tension and suicide jokes had us heading for the taxi.
You get what you pay for and the writing is on the tin 'Work in Progress' love it or hate it, it adds to life experiences of thank god for maturity and progression.
That's all folks.
Reviewer: Katie Leicester
Reviewed: 24th February 2016