Ed Byrne is touring the country with his one man show however at The Lowry it took on the role of a demonstration against the on the spot swear ban in Salford Quays. The unusual restrictions upon a stand-up comic failed to hold back this Irish dynamo.
Byrne's high speed delivery means he packs a lot of themes into his two hour show. From feminism, politics and misogyny to the perils of dating and diarrhea dilemmas nothing escapes observant eye of Byrne in his aptly named show Outside, Looking In. Though these are broad topics, it is the minute eye of everyday life that are the ingredients for his brilliant comic writing and delivery. His take on life is often reminiscent of Woody Allen - but without the extra layer of moroseness. You get the feeling from the tales he tells, life the the Byrne's house is like a sitcom, as he acts out the scenarios of his past he'd make the perfect male equivalent to Miranda Hart's semi-autobiographical show.
Being a fan of Ed Byrne on the hit comedy panel show,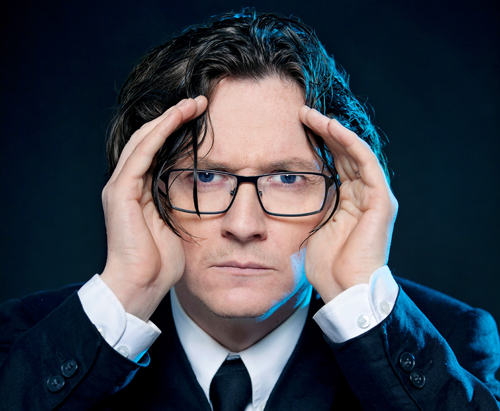 Mock the Week, I was really looking forward to getting to see a whole show of his and I was not disappointed. In the jam packed show, you were able to see an even funnier side of him; even with an audience who weren't the most participating, he still managed to make a joke out of it and still have us all laughing in our seats sharing the untold stories in the interval of the show.
The second half relaxed with his second pint; he dared the authorities to slam a fine on him by using some colourful language but only for comic effect before inviting the audience to join him and Mark Thomas who was in the next theatre outside to take part in a demonstration, with choir, against the anti-swear laws.
A believer in free speech, but mainly the correct use of the English language, Byrne confessed he was glad to be back in the North where his jokes on UKIP were welcomed with open arms.
Ending the show like the proud dad he is, Byrne shares a family photo that concludes an upbeat tale of how he is bringing up his kids to be unique, one off's like their dad.
He describes himself as the scrawny, flabby, left wing comedian - but he is so much more than that.
Reviewed on: 10th March 2016
Reviewed by: Katie Chesworth