Justin Moorhouse self-proclaimed Comedian. Actor. Dog Walker. Parent. Sometimes on the telly, never on your Drive. Has own teeth and is left handed: Veggie.
Mancunian comedian Justin Moorhouse returned to the Manchester Comedy store for the final night of the tour of his latest stand-up show Destiny Calling. In the last year Justin has killed three animals unintentionally, had part of his body removed and started to dress like a toddler – midlife crisis? Maybe. Hilariously funny? Most definitely!
Hitting 45years old and coincidentally matching his waist measurement Justin has taken a long hard look at his life. He reckons he's hit half way, and is searching to make sense of his life so far and is wondering what the future holds for him.
2015 was a busy year for Justin reprising the tiger faced Young Kenny for the record breaking run of Phoenix Nights Live at the Manchester Arena which raised over £5m for Comic Relief. He also wowed the nation with tales of Australia and Manchester on Live at the Apollo (BBC1) during this last series after previously appearing several times on The Comedy Store (Comedy Central), Dave's One Night Stand (Dave) and Michael McIntyre's Comedy Roadshow (BBC1). He has written and starred in two series of Everyone Quite Likes Justin (BBC Radio 4) as well as helming his own podcast About 30 Minutes, No More Than 45.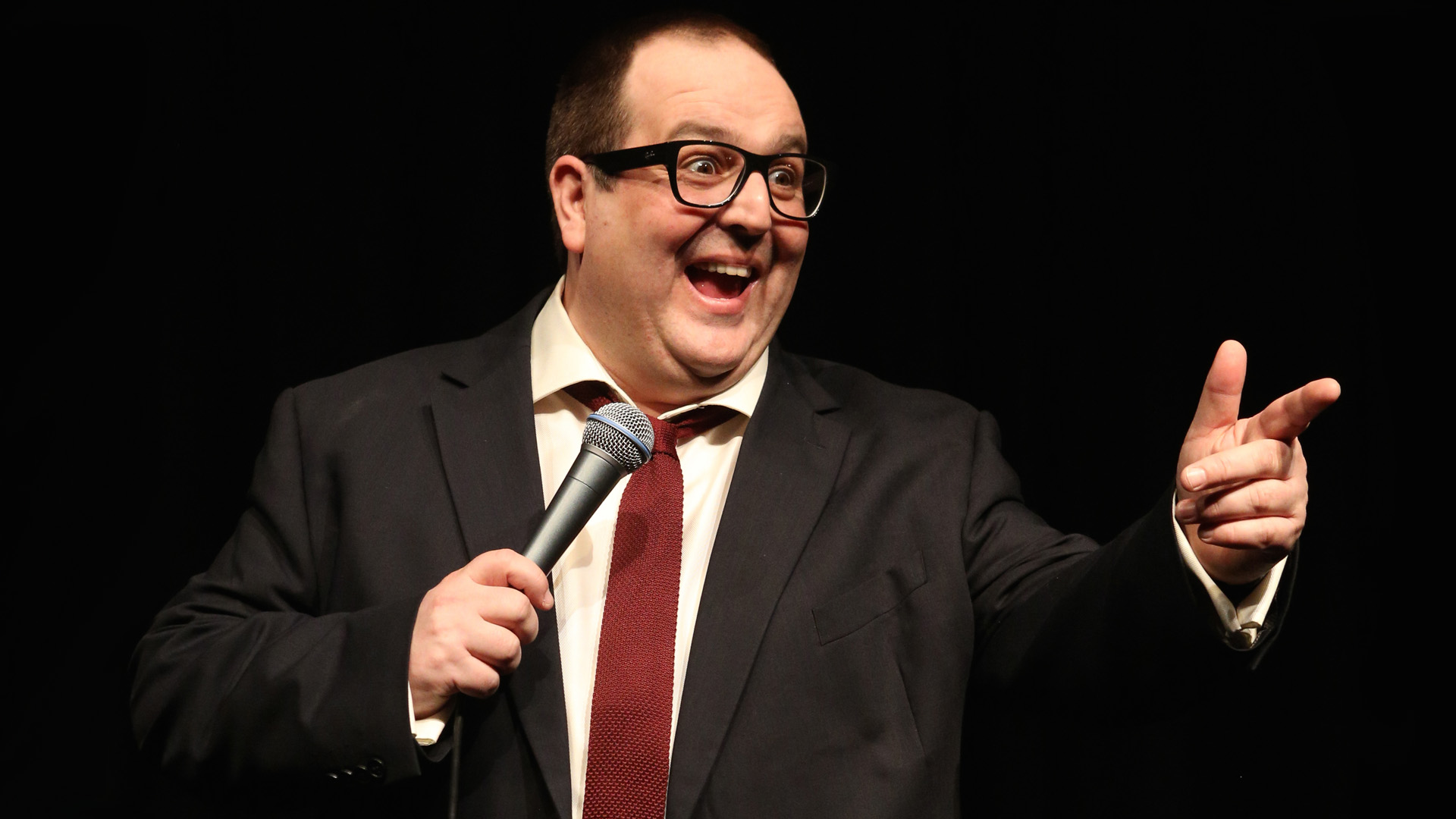 With Les Dawson as his specialist subject, Justin won Celebrity Mastermind champion (BBC1) and is also the 2014/15 Champion of Champions on Radio 5 Live's Fighting Talk.
Tonight's show at the Comedy store kicked off with Justin's support act, Danny McLaughlin a 32 year old northern comedian warming up the audience. Danny amusingly likened his support act to being like free poppadum's with your curry type of scenario. Danny opened the show with his witty anecdotes of his fussy eating that had the audience belly laughing. His accounts of comparing the 'private parts' of men at the urinals was side splittingly funny, topped only by his health anxiety stories, and the tales of his dads aspiration, to gain the superpower of being able to defrost freezers with his mind. Danny is clearly a great comedian and I'm sure he is one to watch out for on the comedy circuit one day heading a show rather than supporting the headliner act.
Followed by a 15 minute interval Justin Moorhouse instantly seduced the audience as he bounced onto the Comedy store stage with his boyish charm, complemented by his 'dressed like a toddler' outfit, sporting elastic belted pants and a tank top.
Justin's tales of hitting 45 and the midlife crisis was not only funny but relatable to most of the audience. Teasing the audience with warnings of the potential relationship pathways and the fears of joyless empty marriages after a certain amount of time together, Justin had the audience howling with laughter.
Justin hilariously conveyed the accounts of his NHS encounter where he underwent a hip replacement at Stepping Hill Hospital, affirming it was for Medical not cosmetic reasons. Asking the surgeon could he have his old hip for the dog once it had been removed, resulted in the audience once again erupting into uncontrollable bouts of laughter. Moving onto explain the cause for the hip replacement being due to his childhood 'clicky hip' Perthes' disease. Entertainingly relaying the tales of his childhood anecdotes of wearing callipers to support the affected hips with a surname of Clegg….. Aka clicky clegg leg!
Justin seamlessly moved on to the topic of GP waiting rooms and comparing pharmacists to being more like a medical Argos, with pharmacists working there all eventually coming to the realisation that they are in fact just working in a shop despite their years of training.
Finishing his show with his extremely talented way of drawing all the evenings stories to a moment of crescendo with the tale of him driving to London when 'nature called' and made its own involuntary entrance into the world.
Justin Moorhouse never fails to have his audiences crying with laughter and I can't wait to see him in his upcoming autumn tour: People and Feelings.
Justin's down to earth humour is spectacular as it never relies on cheap gags or profanity to entertain, and his real life personal stories are told in such a way that even being incontinent can sound hilarious…. A talent in that alone. Justin commands laughter and his stage presence is electric as it never takes long before the audience are eating out of his hand and eager for his next sketch of funniness.
A brilliant night at the Comedy store (as always) and a pleasure to watch a comedian who's every moment on stage is captivating and belly laughingly funny.
Reviewer: Victoria Wilmot
Reviewed: 20th March 2016