The Manchester Comedy Club hosted their 'New Comedians' night for the first time on a Monday night instead of its regular third Sunday of the month slot. The evening promised to see the freshest and funniest new comedians of today flourishing into the future stand-up comedians on the circuit.
MC Alex Boardman and his fledglings had an intimate audience of around 40 people from varied backgrounds and age range. Alex a lifelong comedy fan instantly captivated the audience by getting to know some of the characters in the crowd, and putting us all in the mood for a night of comedy.
Alex stormed onto the comedy scene in the late 90's and quickly became a popular choice for the circuit. A full time comic from 1998 his skills as a writer have also been in constant demand for Britain's most cutting edge prime TV and radio comedy shows. A lightening quick ad libber with a unique brand of 'flattery and abuse' proves ever-popular with his audiences.
Alex held the audience attention throughout the evening and had a fantastic ability to deal with the notorious hecklers we get at comedy venues. It's clear Alex is a very well established and talented comedian who cares for his fledglings as he welcomed each of them individually and encouraged them throughout.
First up was Jules Oliver from Essex who loves comedy and Concorde but hates Falconry, Jules stand told tales of hangovers, being 40, diets, funerals, weddings and the infamous joke about dog groomers. Jules at time struggled to hold the audience's attention but being first up is always hard. It's clear Jules has immense confidence and her act was polished and well delivered.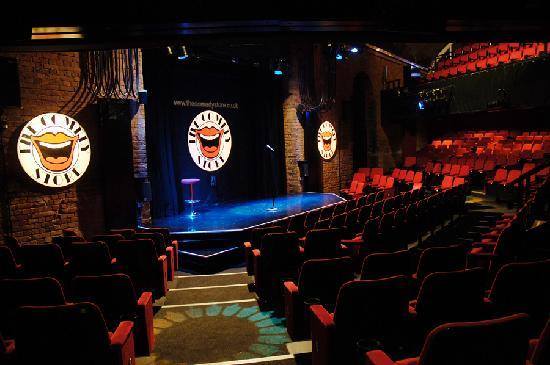 Second up was Josh Matthews a new comedian who admitted to the audience he was a little nervous but delivered his act extremely well, he talked about standing ovations, Christmas plays and gave the audience his own funny rendition of Baa Baa Black Sheep followed by his fabulous analysis of the song 'it's raining men' had the crowd laughing and hungry for more.
The final act of the first half was Jack Evans accompanied by his guitar sang through his act with songs such as 'gay cowboy', 'the difference', 'chuckle brother's' and finally 'mother' were all strangely funny in a very bizarre way. He told his final story working his way through board games his cleverly written story line started with Cluedo encompassing chess, Hungry Hippos, Jenga, Operation, Mousetrap and ended in Monopoly had the audience belly laughing and wanting more.
After the break first up was an 18 year old new comedian Anthony Wright who introduced his act likened to a one night stand however this young fella definitely isn't a one night stand as his talent was beyond my expectations for a new comedian and I'm sure he's to stay around for a long time, he confidently relayed tales of his family including a very amusing story about his seasoned veteran grandfather. This young man oozed confidence and talent as he stood on stage bravely dressed in a brightly coloured suit with a matching dickey bow in the midst of factory workers, students, poets, vets, teachers and an intoxicated audience.
He had the audience however eating out of his hands as he eased his way through his act, this young man is definitely a star of the future and one I will personally be keeping an eye out for when he is next on the circuit - so remember his name as he is a must see.
Final act of the evening was Freddy Quinn from Preston armed with his note pad and a bottle of Heineken he graced the staged to recite his freshly written poetry relating to the audience of the evening which was hot of the press and cleverly written in such a short period of time.
Freddy was last at the comedy club three years ago but it was evident he was very comfortable being back as the audience were all thoroughly engaged as he told his jokes regarding weight, the NHS and GP's, long term relationships, Facebook, addictions and Samuel L Jackson. Freddy was hilariously funny as he conveyed his tale of Greggs and his meal deals ending the evening on a high as he spoke about his ban from twitter.
All in all the evening is a fabulous way to see new talent and up and coming established comedians, at £4 a ticket and £1 for students I couldn't think of a better way to spend a night. The food available is excellent value for money a 12" pizza costs as little as £5 and it is freshly prepared on the premises.
Reviewer: Katie Leicester
Reviewed: 21st March 2016