It's not often you exit a stand-up gig (a) questioning your own existence (b) feeling a renewed gratitude to be alive and (c) craving a cup of tea.
I'm not even sure "stand-up gig" is an accurate enough description of Auton's show, which fuses poetry, performance, bad puns, surreal flights of fancy and wordplay. It seems too plain, too ordinary somehow, and certainly too restrictive.
The Water Show is a bit like life… you don't always know where it's going. But there is much joy to be found on those unfamiliar and unexpected paths.
For the first twenty minutes, Auton is his own supporting act (supporting himself "just like his parents always said he should"), sharing with his audience a number of poems which both baffle and delight. In 'Heaven Food' he poses the question, "What's the food like in heaven?" – if there is steak, then do the cows have to die only to go to heaven, and then die again, and be eaten, ad infinitum? What about kitchens? Are there kitchens? And if there's a fly trapped in your kitchen what do you do? You can't just open the window; it, too, earned its place in God's kingdom.
Interspersed with one-liners, asides and non-sequiturs, other poems and stories create surprisingly beautiful and poignant little moments centred on simple, everyday events: waiting for his mum at King's Cross station; naming the colours of the baubles on the Christmas tree with his nephew and dad; a man on a bus in marital discord.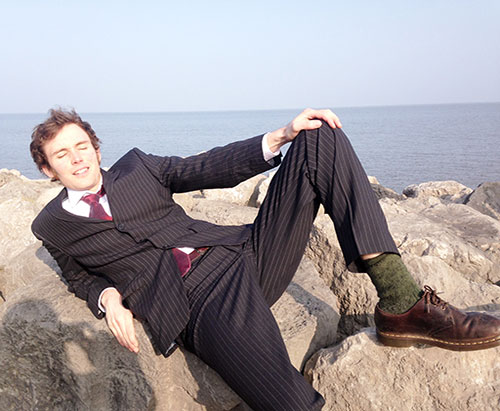 Auton's main set is a meandering thought-journey through the world of water. Sometimes he tells us about key water-based moments in his life: a hosing down he received whilst at a party, paralytic in the garden; another time floored by food poisoning in his parents' bathroom. Other times he veers off into David Attenborough territory: he muses on mallards, sharing his appreciation for the sleek, smooth, unflappability of ducks, or, in one particularly surreal episode, simulates frog sex.
There is nothing artful about Auton. Tall, lanky, in his oversized new Carlo Bellini blue suit from Walthamstow Market, tags still dangling from one sleeve, he exudes unpolished, unvarnished whimsy and wonder. At the heart of his material is an abiding appreciation for the miracle of the mundane – that we should even exist on this planet, and live, and breathe. That there are so many things – marvellous, amazing things – we so easily forget and take for granted.
I felt truly glad to share company for an evening with someone who seemed to be gentle and honest and embody a rare quality I can only describe as the opposite of cynicism.
Rob Auton may not be everyone's cup of tea but he is definitely mine – and if you ever find yourself pondering about the absurdity of life then there's a good chance he will be yours too.
Reviewed on: 23rd March 2016
Reviewed by: Alaka Prodhan