Chris Stokes (31 in age and kilos) introduced himself tonight in a warts and all fashion along with an explanation of what he'd been doing when he took a break from being a comedian.
I thought it was a really brave and genuine conversation. He said in his set that he always wanted to be the same on stage as he is off stage and I got the impression that he achieved it tonight.
He talked about the fallout from the breakdown of his four year marriage which led him to quit stand-up and become a van driver for an animal charity. It seems that his time away from the stage allowed him to discover more about himself, his family and his small town in the Black Country.
Now this sounds like it could be the rantings of a damaged man and isn't it true what they say about the tears of a clown and how tragic the life a comic is! But I don't think it is true for Chris.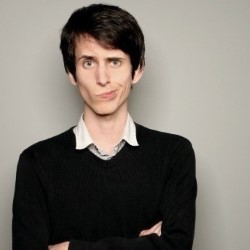 He is honest about the pain he felt about his divorce and how it deeply affected him. But his hour long show is full of good humour and insight, demonstrating a healthy self-awareness and self-acceptance. I don't want to fall into the trap of being a critic who analyses every joke or talks about the topics Chris touches upon; I think that would do a disservice to what I experienced tonight. After all, good standup comedy is a conversation between the comic and the audience, sometimes the audience don't play their part fully. I actually think that the audience at the Unity 2 stage began to really care about this very erudite and honest comedian. I think that Chris was genuinely surprised by the reaction he got at times, very different from his Edinburgh Fringe crowds.
The show is entitled Altruism in Birds which links into a story he told about an injured seagull and his love for animals. Chris talked about the reciprocal altruism in certain types of seagull, whereby their calls are alerts for other gulls that have no real benefit for the calling-gull itself. I think this cleverly acts as a metaphor for the show itself.
Chris was that injured seagull and in an altruistic manner he talks about his journey, pain and experiences for the entertainment and enlightenment of the audience. I came away feeling like I'd got to know this previously unknown comic called Chris Stokes and I actually liked him. I also felt like I'd been intellectually challenged and yes, I had very much enjoyed his 60 minutes of mirth-making. I will definitely be looking out for more from this very smart and engaging comedian.
Reviewer: Alan Harbottle
Reviewed: 12th April 2016