The Comedy Store on Deansgate Locks has been a go- to venue for Manchester Stand-up fans since it opened back in 2002, with it's iconic laughing mouth logo and bare black stage it's there to remind us how good and bad stand-up can be- a two way battle between man and audience- if you think you are good enough- get up there and show it.
Alex Boardman, an experienced comedian and comedy writer for the greats has been bringing new talent here for a long time now and the format remains the same, established comedians are paid to do a twenty minute slot while wannabe, or beginner acts get for 5 minutes in front of an audience who have paid very little for their seats and are prepared to be tolerant, On Sunday night we went along hungry for the excellent pizzas served in the bar and restaurant and prepared to join in.
Alex's warm-up set the tone "Be kind, be supportive, tell us what you think. He also tested us out for willing participants - Mark- the wine drinker from Radcliffe was particularly willing to be teased, as were the fifteen or so Swedes and Danes who were over on school trip to improve their English- but their English wasn't good enough to reply. The two girls from Pandora in Oldham didn't get it at all, so – on with the acts.
Dawn Rigby opened, and opened up, about her size and her dislike of smugly successful Weight Watchers, Proof positive of her lack of success in the slimming world she ended the riff quite well and moved on to family and family hypocrisies. Some good writing here- two unloved aunties, Annie Rexic and Anti- Social came in for a lot of scorn until one of them died and left enough money for a holiday in Benidorm.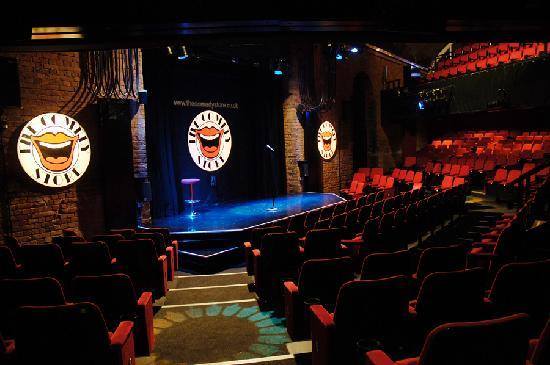 Time for Mike Williams, a newbie comedians five minute slot. An office worker by day he caught the audience straight away with a piece on form filling, waiting for laughter twice before moving on to Facebook adverts and flatmates habits. Good material, good delivery, good timing and a lot of laughs in five minutes.
Over to the heavy weights to end the first half. Rob Thomas, a scouser who has been on the circuit since 2010 showed his experience, grabbed us by the scruff of the throat and let us know what he thought about life. Plenty of "Fooks" and anger, peppered with lots of knowing shrugs and pouts he knew very well how to deliver familiar material with enough angst to elicit laughter. The jokes were funny and he varied the tone nicely with a sorrowful tale about his first Welsh girlfriend.
After the interval came Simon Lomas, whose five minutes was worth anybody's ticket money. Thin, geeky, socially dysfunctional, going for pathos from the off, he got a laugh a line for five minutes and that wasn't bad for a first try. With good material, he was able to wait for the penny to drop with the audience, even the Swedes and Danes, when he said he and taken up Scuba Diving as a hobby, because someone had told him he couldn't cry under water, Sadly, he told us "you can,"
Rachel Lomas closed the show. She has been doing stand-up since 2008 and has an under- aged persona which fits her first take on the appeal of over young women to men. Her costume says a lot about her appeal. She had on cute city shorts and bobbed hair, with leopard skin mini boots, very sexy on a young girl, but disturbing when she tells how to stop men from talking about their one night stands. She asks them to "take her home or she will be late for Brownies" and "not to tell her parents here she's been". An interesting comment on some men's attitudes to women? If so, nice one Rachel.
In short, an outstanding night out for the audience and a good testing ground for new talent.
Reviewer: Elaine Bermitz
Reviewed: 17th April 2016