It's mid-April and the weather outside feels like a cold winter with snow, sleet and hail but you can always count on a warm atmosphere at The Comedy Store on Deansgate Locks and that was no different for Stand Up Thursday this week which was unusually in the Helter Skelter Bar instead of the usual 500 seater auditorium which was closed due to flooding. Something to blame on the rain, no hose pipe ban this year.
With the move to the downstairs bar, the gig did have a very intimate feel with everyone on foldaway chairs around a very small stage against the wall, Dave Williams was the compère for the night and did a great job of immediately making the audience feel welcome with audience interaction Williams style of comedy is very easy to enjoy and most of the audience were laughing in minutes, he welcomed to the stage, the first of four acts performing tonight; Steve Shanyaski. Steve had a lively personality and had some great observations on married life and all that comes with it, including the other half going out clubbing and the rules of the house. At times his act felt a bit harsh on his other half and a bit played out towards the end when he got the guitar out but I can't deny, there was some very funny sections to his act and he's a comedian that is very comfortable in his role and a born entertainer.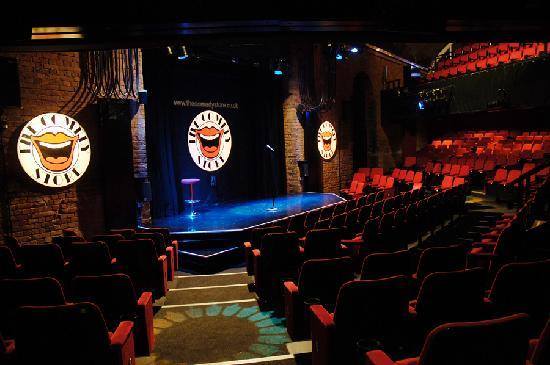 The second half saw Dave Williams returning to settle us in to even more acts, but Dave was thrown a curve ball with some audience participation which took a shocking turn. Dave handled it very well and at that point, you could see that he's a very capable comedian in keeping the laughs coming even when people are a bit frazzled.
He welcomed on two newcomer acts which did well considering what mood they were entering, the second showing excellent timing.
It was then time for our final act of the night; Geoff Norcott. Norcott had an excellent stage presence and got the audience pretty much as soon as he was on stage, at times his jokes were close to the mark but were enjoyed by most if not all. He had some fantastic laugh out loud moments such as a brilliant but on the difference in male and female orgasms and a trip advisor review on Auschwitz. His material was solid and his delivery was spot on.
The evening was great fun and I left the night with my cheeks hurting from laughing so it was definitely a great night.
All the comedians performed well and I hope to see more of them all, the comedy store lives up to its name once again, and now we know; you can put a price on happiness, the cost of a ticket to this show!
Reviewer: Maxwell Eden
Reviewed: 27th April 2016