Let me preface this by saying the comedians had their work cut out for them at this comedy night. With a huge, rowdy crowd of colleagues on a work night out, each thinking they're comedians and drinking like sailors, it wasn't going to be easy.
The compere for the evening was the wonderfully self-deprecating Phil Ellis. His audience interaction was second to none and there were surreal moments (involving a random guy in the audience and lip syncing to an iPhone), that had us all laughing. Despite the disruptive crowds, Ellis managed to tread the fine line between keeping things in order, without making it an uncomfortable atmosphere.
The first two acts were previous Beat the Frog winners and their "prize" was performing a slightly longer set. Luke Wright was up first and I have to admit, I found him a little awkward, as if he were lost and his act seemed to lack momentum. There was the odd funny moment but it was mostly just slow. Jim Bayes from Leeds was up next and seemed much more confident. He had a great energy and some pretty great Manchester-based jokes. It's easy to see why he had won!
On to the competition, each act had to last for five minutes, without having 3 "Beat the Frog" cards held up by random members of the audience, signalling that they needed to vacate the stage. For some it was clearly their first foray into the world of stand-up comedy and hopefully this experience hasn't scarred them too much to ever try again!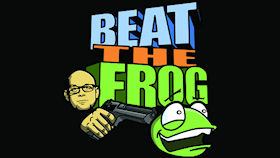 Up first was Paul Brown, a master of the withering glance, deadpan humour and intentional awkward silence. Although this was very funny, it would have been good to hear more actual jokes, however the near-constant laughter meant that there wasn't a lot of room for that.
Chelsea Elizabeth Hart was easily one of the best of the night. An Alaskan, Chelsea had a wonderful energy and enthusiasm that seemed to be somewhat wasted on this crowd. Personally, I would pay to see her do a full set and hope she goes far in comedy.
Unfortunately, Lewis King only lasted 1 minute 50 seconds and it seems that his obscure routine (and "rap") about mayonnaise wasn't well received... Looking wonderfully out of place was (spoiler alert: eventual winner!) Sally Firth. Imagine your friend's slightly posh mum coming onto stage and being both adorable and hilarious and you'll understand why the audience fell in love with Sally. Armed with her son's stand-up comedy routine in a notebook, Sally's timing, expressions and delivery were so natural and her persona so likeable that the crowd were chanting her name at the end of her routine. Fantastic.
Stephen Wilkinson sadly only made it to the 2 minute 35 second mark as nerves got the better of him. He was overall likeable and perhaps thrown by the crowd, however there were some good jokes and with practise and confidence hopefully he will try again.
Reminding me of Josh Widdicombe, Peter Selwood bases his comedy around being born with one hand and does so with grace and good humour. He is another that I would love to see a full set from in the future. Immensely likeable but incredibly nervous, Eddy Dibs lasted 1 minute and 50 seconds. The scouser's jokes lost momentum as he lost confidence which is a shame as he seems to have great potential.
The voting between Paul, Chelsea, Sally and Peter was so unanimous that even the other acts were chanting Sally's name. They were all gracious "losers" and the camaraderie was great to watch.
Comedy aside, we did decide to sample the extensive menu. The burgers were delicious however the promised coleslaw and side salad was not to be seen and the chips (although tasty) were cold. After mentioning this to a member of bar staff, we were told that it wasn't anything to do with them, and that was the last we heard of it. Slightly disappointing.
That said, it was a great night of new comedy, ideal for a date or to do something different with friends. Hopefully this is not the last we have heard from some of the acts tonight.
Reviewer: Codie Louise Austin
Reviewed: 2nd May 2016