The legendary Mr. Izzard, fresh and lean from his 27 marathons, came to Salford to play three shows in three languages, German, French, and English, to an intimate audience at the Lowry studio. This was a hot ticket and he didn't disappoint. Mr. Izzard was on top form, clearly enjoying himself in a pink beret, and the set was intelligent and playful, the hour ending far too quickly. He took us through the ages, from Ancient Greece and Rome to medieval England, to the Second World War, in a clever repertoire that didn't overly force the message of togetherness.
We watched the French hour, my date was fluent but my own French is rusty, and much to my relief, the themes and main ideas were clear, but I did miss a lot of the clever detail. He talked about the Greeks and Romans believing in the importance of a healthy body and mind, the Greeks inventing the Olympic Games because of this, but I lost the biting comments about the Nazis believing this too, albeit with a complete lack of a healthy mind.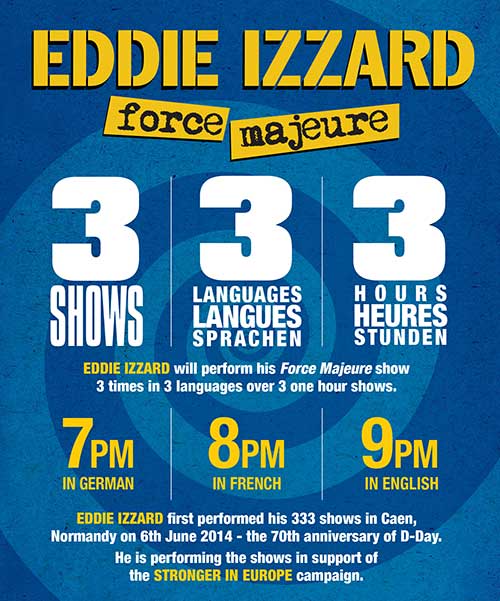 There were jokes about Charles I being dismayed that his God forgot him on the day of his beheading, the great Caesar's legacy as a salad, and the nonsense of sports like dressage, demonstrated by Eddie trotting to and fro across the stage in leather heels. He clearly wasn't taking himself too seriously, laughing as he groped for the odd French word he couldn't remember, or as he playfully mixed in some German and English. His brother was waiting in the wings, occasionally being called on for prompts, having helped to develop the show with him, and this added to the lightheartedness.
The show was in support of the Stronger in Europe campaign, but there was very little direct mention of this. He did comment at one point that, ironically for myself, because we were there to watch a show in French, we were clearly an intelligent audience and not idiots—at which point he whispered, "Brexit". He asked the audience for one question at the end, and he got a right clanger: "Why all the languages?" He talked about a memory of being in Santorini in the 80s, where a tour guide spoke to the group in several languages, which struck him how easy it is to be inclusive of different people, who in many ways are really just the same. And that doing this show in several languages – he may even develop it to be performed in Arabic and Russian – is part of what he calls open hand, and not closed fist, politics. We left uplifted after an hour of joy and laughter, as if warmed by a big hug.
Reviewer: Ben Spencer
Reviewed: 6th May 2016