The Lowry Theatre Complex in Salford Quays opened its doors in October 2000 and since then its stage has been graced with many well-known comedians who have delivered stand-up comedy at its best. The Quays Theatre, one of the smaller auditoriums seating around 430, is the perfect setting for this evening's entertainment of The All Star Stand Up Tour. The tour stars four of the best known comedians of today and promises to be an eventful and hilarious night if their recognitions in comedy are anything to go by.
The evening was hosted by Jarred Christmas, a comedian originally from New Zealand but is now based in the UK. He has appeared in many comedy shows such as Mock The Week and Russell Howards Good News and has won the Chortle Award for best compere. Truly deserved too because he did an amazing job of warming up the audience. His ability to make literally anything funny was brilliant and I loved that none of it was rehearsed. The proof of this lies in the fact that all of tonight's performers will be aching in places they didn't know existed after attempting Tai Kwon Do when an audience member revealed it as his hobby. A really funny man who I would love to see live again.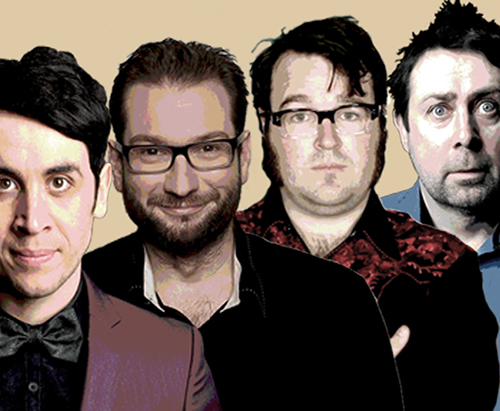 Next up was Gary Delaney, a 43 year old comedian who is also known for his roles on comedy panel shows. He was a one-liner type of man and the audience loved him, even when he stepped a little close to the edge with some of his jokes. His stage presence was really good and he has the funniest laugh ever. His favourite pastime is making up lies on Wikipedia and seeing how long they last on there. What a legend.
The next act really surprised me (in a good way) because I really wasn't expecting it. Pete Firman is actually a magician/comedian. And by that, I don't mean he does comedy magic. His tricks were brilliant and very credible. He just has the added bonus of being very funny when he does it. I loved him and he is performing at this year's Edinburgh Fringe Festival as well as doing a UK tour starting in September. I will definitely be purchasing tickets for that.
Last but certainly not least was Sean Hughes. His career began at The Comedy Store in 1987 and almost thirty years later, he still has the ability to hold the audience with his stand up show. Obviously, the content of this will have changed over the years and his hilarious grumblings about becoming middle aged was very apt for tonight's audience.
I actually did not want to go tonight. I'd had an awful day and wanted nothing more than to curl up in my pyjamas (oddly enough linking to Sean Hughes' theme) but I am so glad that I went. I laughed from start to finish and would recommend this tour to anyone.
Reviewer: Annellen Fazackerley
Reviewed: 18th May 2016