For those who missed the world premiere of How My Light Is Spent at the Royal Exchange in April, or the run at the Sharman Theatre in Cardiff in May, there is one more opportunity to enjoy this new and uplifting work by Alan Harris in the Lake District, writes Karen Morley-Chesworth.
The world can be a very lonely place – and this fantasy love story gives hope in these dark times. This work highlighting how the most tentative of connections with another soul can bring light back into the lives with humour and grit.
Winner of the Bruntwood prize for playwriting 2015, Harris's play has the appeal and honesty of a 1950s/60s kitchen sink drama – sadness and wit, depicting the ordinary lives of people in very ordinary towns and cities the rest of the world has forgotten.
This one act play focuses on the relationship between Jimmy a 34-year-old divorcee living at home with his Mum, and adult chat line worker, Kitty he calls every Wednesday evening when his Mum is out at the Sally Army.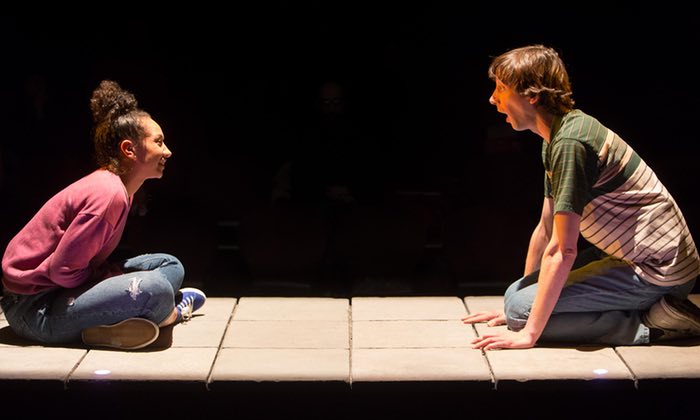 Rhodri Meilir as Jimmy is enchanting and enthralling. On the minimalist set as the audience enter the Studio, Meilir's charisma fills the auditorium. His natural delivery and fullness of character make it impossible not to feel sadness and pity for Jimmy. However, when he switches roles from the 6-foot-plus loner to the minus-five-foot landlord or the pimp aiming to lure Kitty into new areas of her industry, he produces forth manipulative and ensnaring characters you instantly detest.
The innocence of Kitty's character is brought out to the full by the engaging performance by Alexandria Riley, who also captures the teenage nonchalance of Jimmy's estranged daughter, Mallary and his concerned mum with true realism. Together Meilier and Riley are the dream team – brilliant acting and their Welsh tones mesmerising.
Set in Newport, Wales I now feel I know this place so well having been guided around the streets and highlights of the drive-through donut restaurant where Jimmy worked. All sounds normal until bit by bit Jimmy begins to disappear. As his life is pruned back into the box that is his bedroom he is reduced to nothing. He needs that spark of light to bring him back.
This is a beautiful play, covering many aspects of working class life in the 21st century – and Meilier and Riley together maximise the light and music of Harris's word on the page to bring a truly amazing producing to Theatre by the Lake, as part of a collaboration with Manchester's Royal Exchange and Cardiff's Sherman Theatre.
If you don't see anything else at a theatre this year, please see this – well worth a visit to Keswick for.
How My Light Is Spent by Alan Harris, The Studio, Theatre by the Lake until 24th June 2017. For more information and to book tickets visit www.theatrebythelake.com
Reviewer: Karen Morley-Chesworth
Reviewed: 3rd June 2017
North West End Rating: ★★★★★