My understanding of the 1980s is from the music – Morrissey, ABBA, - however Handbagged gave me a whistle-trip tour through the decade of Thatcherism, and I enjoyed every step of the way writes Katie Chesworth.
Through the weekly meetings between the Queen and Margaret Thatcher I had a lesson in modern politics, constitutional law and the satirical skills of a play write which turns a very dark part of our world history into the most entertaining visit to the theatre.
I knew a little about the miner's strike, the Falkland war and riots of the 1980s, however seeing the political figures of that day come to life on stage brought a greater understanding of what happened during the 11 years Margaret Thatcher was prime minister.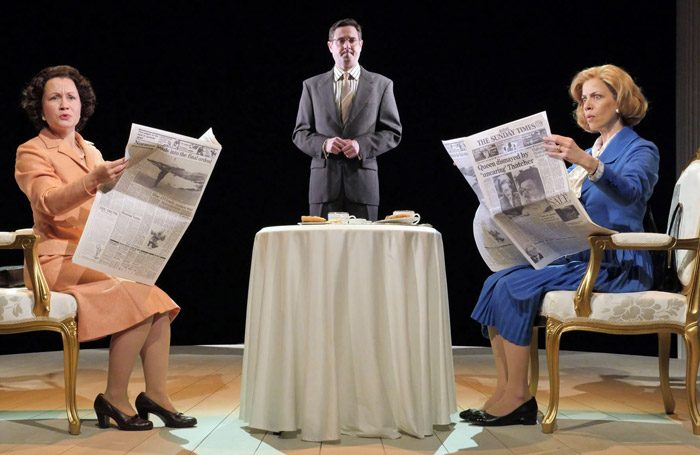 Julia Watson as the older Thatcher and Alice Selwyn as the younger PM who lectures to the Queen captured what I had seen of the first female prime minister. However, Eliza Hunt and Emma Carter as the older and younger Queen made me think about the role the monarch plays in our country and on the world stage.
This four-female lead play about female leaders has two male parts representing the supporting actors in this global historic tale. Matt Addis and Ian Barritt give some brilliant portrayals of historic figures. And Addis even brings Nancy Reagan to life on stage.
All the characters talk directly to the audience, about the play they are presenting, however it is Addis and Barritt's characters as actor 1 and 2 which takes them outside the stage spotlight to fill in additional historic background knowledge.
I love the way this production brings history to life, like Horrible Histories for grown-ups – excellently written, engaging, informative, humorous and very, very memorable for all the right reasons.
I left knowing more about the 80s, the Queen and party politics – and with my face aching with laughing so much.
Handbagged by Moira Buffini in the Main House, Theatre by the Lake until 3rd November 2017. For more details and booking visit www.theatrebythelake.com
Reviewer: Katie Chesworth
Reviewed: 28th June 2017
North West End Rating: ★★★★★
Photo: Keith Pattison