A gritting northern drama, Rails is the 21st century reincarnation of the great 50s and 60s kitchen sink dramas writes Karen Morley-Chesworth.
Simon Longman's Rails handles the hard-hitting social issues of this era, while ensuring some corker lines that have the audience roaring with laughter.
While the difficult times working class people face may not have changed over the generations, the way society is works today, the isolation makes life harder. Longman captures this silo way of living with his monologues to the audience – interaction between the characters who live within the same house, same street and same little town off the by-pass only every communicate with each other through text or mobile.
Toby Vaughan's performance as the scooter boy Mike is perfection – from vulnerable, lonely child to enraged adolescent, this confused and disenfranchised character is a classic role.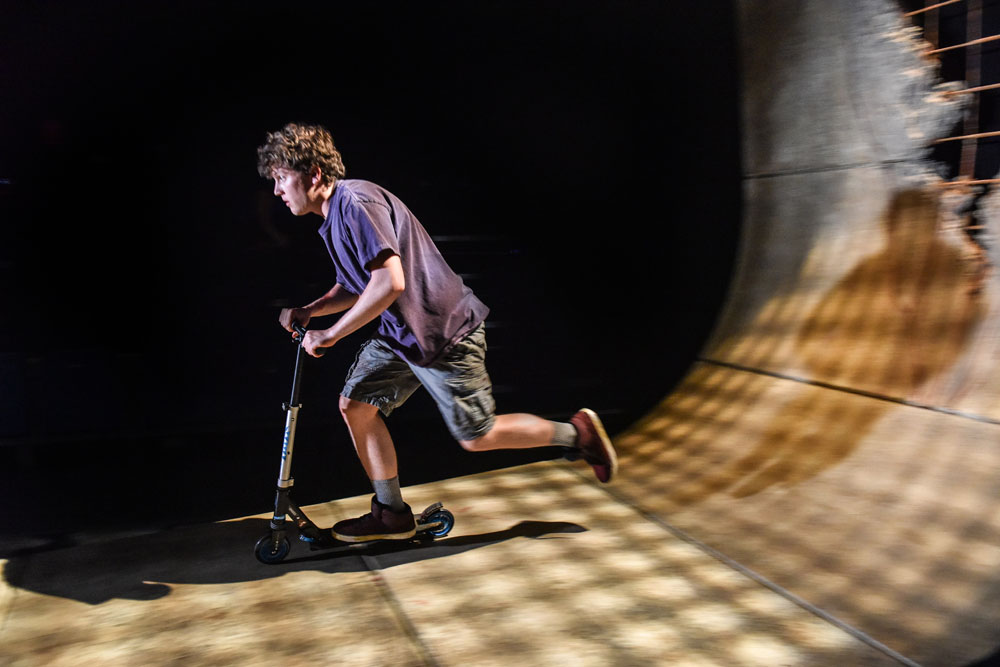 The girl over the road, Sarah is another strong part played brilliantly by Lydea Perkins. The chemistry between Vaughan and Perkins makes for some moving scenes – as the lonely young people find friendship in each other.
Oliver Mott as Ben, the older brother and carer of Mike is equally brilliantly played. Each of these three characters have the similar issues yet handle them in equally dysfunctional ways.
Christine Entwisle as Ben and Mike's mother Deb, whose emotional and mental illness is the most extreme reaction to the world around her has a pivotal role – and it played with a control and passion in equal parts.
This is no play for the faint hearted, yet one that gives hope and a few laughs. The atmosphere and tension is magnified by the excellent sound design.
The choreography of the performances is stunning, even the violence is interpreted in movement which is mesmerising, and hits an inner chord.
This production has been so well cast, and these four actors maximise an equally brilliant play for the 21st century. The language is modern and strong, yet each word is perfectly chosen to push buttons and get a response. This is a memorable production from Keswick's Theatre by the Lake. It's a play that needs to be scene.
This production of Rails deserves to be played to a full house every night – and if you only see one new play this year, make it Rails.
Rails by Simon Longman runs until 27th October 2018 at Theatre by the Lake's Studio. From more details and to book visit www.theatrebythelake.com
Reviewer: Karen Morley-Chesworth
Reviewed: 2nd June 2018
North West End Rating: ★★★★★