Classic and abstract comedy arrives on time at The Brewery Arts Centre, Kendal as Lipservice Theatre steam into town with their hilarious presentation Strangers on a Train Set, writes Karen Morley-Chesworth.
The pun on the classic murder movie was the first of many parades of the very best train based films including Murder on the Trans-Pennine Express, Briefs Left on the Counter and an amusing re-imagination of The Railway Children.
Our evening with the model train society opens with the brilliant introduction from Derrick - who you may but possibly may not recognise from the front cover of the Model Train Magazine - and his sidekick Geoff (and the man with the van he needs to move the model railway around the country).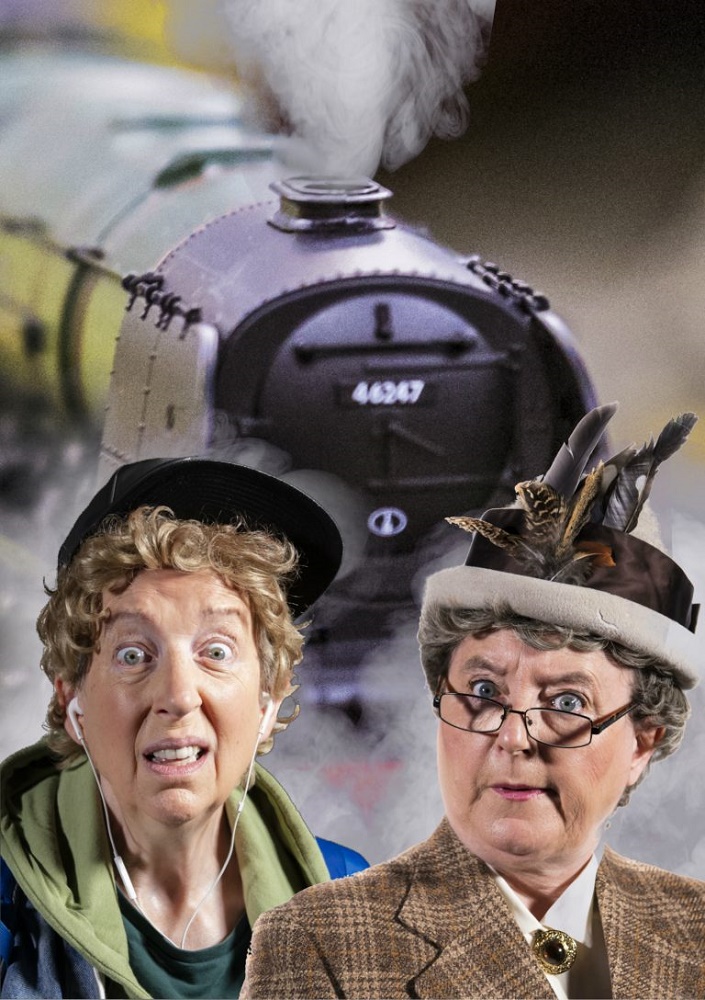 The two-person play, written and performance by Maggie Fox and Sue Ryding is so imaginative in the use of film, words and characterisation it is a unique comedy express.
Through their script and extraordinary acting, Fox and Ryding create the railway nerds who are so realistic, you feel you know them or have seen them at the end of a platform with their anoraks, thermos flasks and notebooks.
Derrick and Geoff with their little quirks and unbounded attention to railway facts and figures - down to the correct metal used for the handles on the toilet door of the Virgin train - are lovable, believable, and downright funny.
Geoff has never got over the loss of his father in 1960 - who went to a railway convention in Melton Mowbray and never came back. All he has left of the father he desperately wants to be reunited with are his red pants - a feature brought into a number of the scenarios this production travels through.
As they introduce their model railway figures, Fox and Ryding take on many new personas, each with their own entertaining twist that kept the audience laughing for a full two hours.
Moving from the old lady and the teenager on the modern Virgin Pendolino to Celia Johnson and Trevor Howard on the classic steam train and Miss Marple inspired Miss Irene Sparrow and the dumb, trench-coat wearing inspector, there are no boundaries to the talents of these two award-winning actors.
The stage is filled with a cast of many, produced by just two - and the surreal telling of tales through the little model people set within the model railway is at times Pythonesque - as if the brilliant drawings from the hand of Terry Gilliam had come to life before your eyes on stage.
And if you don't know the classic movies to understand the cultural references at the centre of the plot, you will still be amused by this production.
Anyone who has travelled on the railway system in the north-west of England will be familiar with the announcements and ways of our local train providers - and Lipservice make the most of this everyday material and create something very special.
Reviewer: Karen Morley-Chesworth
Reviewed: 20th September 2019
North West End Rating: ★★★★
Lipservice Theatre's Strangers on a Train Set continues its tour:
20th & 21st September, Brewery Arts Centre
28th September, LBT Huddersfield
9th & 10th October, The Met, Bury
23d & 24th October, SJT Scarborough
13th November, Neuadd Dwyfor Pwllheli
14th & 15th November, Theatre Severn Shrewsbury
20th November, Borough Theatre Abergavenny
For more details visit www.lipservicetheatre.co.uk