On Halloween, Thunder Road Theatre Company brought a modern reimagining of the classic Robert Louis Stevenson novel The Body Snatcher to The Box theatre in Kendal writes Karen Morley-Chesworth.
This new touring production written by multi-award-winning writer Ian Townsend takes the tale based on Victorian criminals employed by the real-life surgeon Robert Knox from the past into the post-Brexit future. The ironic use of the Clash music with their rendition of 'Should we stay or should we go?' may not have added to the plot, but I imagine sums up the last three years for the audience.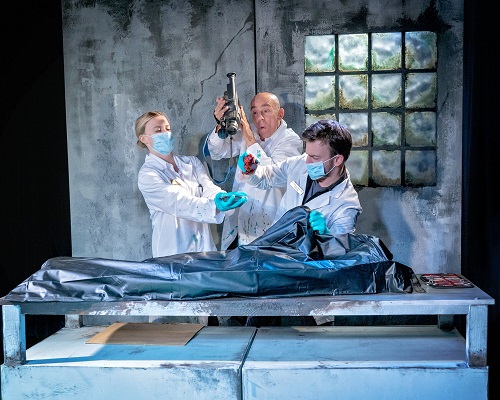 This four-person production brings to life and death numerous characters along the way. Alex Moran as Fettes, the scientist gives a brilliant performance as the lead character leading us into the horrific heart of a Yorkshire town, destroyed by a rampant deadly virus that is wiping out the human race across the globe.
The opening scene kicks off with a bloody introduction to this new world where regulations are no longer followed and the end is believed to always justify the means.
The scientists need the dead bodies to research, to find a cure - but how far ethically can and should they go?
These are dark days yet the interlude of music throughout the performance occasionally disrupts the tension which builds up within the auditorium - though it is a great opportunity to hear the beautiful singing voice of Claire Burns who lays Rosie, Fettes' partner.
With six roles to perform in this play, Elizabeth Hope is switching costumes continually, and as the other scientist Stanlow working with 'the Professor' - Toddy to everyone - she gives a strong performance.
Zach Lee also has multiple characters to bring to life, and again death. As the landlord of the Ruptured Spleen, he captures the sinister role to perfection - and as Toddy, the caricature of the mad professor. This is exactly what you want to see on Halloween.
This touring production has the ideal balance between horror, humour and entertainment - and does challenge the audience to consider the moral dilemmas set out in the original Robert Louis Stevenson novel.
The lighting and effects certainly set the mood for a night of horror and the full Kendal theatre certainly jumped at the unexpected twists and winced at the action on the operating table. However, I did find the music a distraction rather than an enhancement. I understand the use was to use 'revolutionary music together with gothic storytelling and the futuristic dystopia' - however, the quality of the original idea, the writing of this new version and the acting can touch the soul of the audience without any musical additions.
The performance was entertaining and thought-provoking, and it is a good choice of play to see as the clocks turn back, the long dark nights set in and our own future looks as foggy and scary as the set of this play.
Did I think of Brexit as I watched this performance? Thankfully no, yet in hindsight, it does make you fear the unknown, and it does make you question the terrifying possibilities of the future. Until 17th November https://www.thunderroadtheatre.org/
Reviewer: Karen Morley-Chesworth
Reviewed: 31st October 2019
North West End UK Rating: ★★★