Pickled Image Theatre brings a festive treat for children to the Brewery Arts Centre in Kendal as Christmas Tales with Granddad delights the young audience, writes Karen Morley-Chesworth.
The puppetry is life-size and believable - and very engaging. The children in the audience shrieked with laughter at the snoring, and trumps from the sleeping Granddad on stage.
The arrival of Tonten, the mischievous gnome leads to the theft of a mince pie - and the start of some naughty behaviour, which is a little confusing for the new audience as they keep shouting out the little minx is the Elf from the shelf - however, mistaken identity has never stopped a good story.
As Grandad wakes to find his lovely welcoming sitting room filled with little humans he also discovers his missing mince pie and star for his Christmas tree/ Where can it be? Don't be too quick to point the finger.
This 45-minute production has everything a young family could want from a Christmas show - a little slapstick, audience participation, magic and festive setting.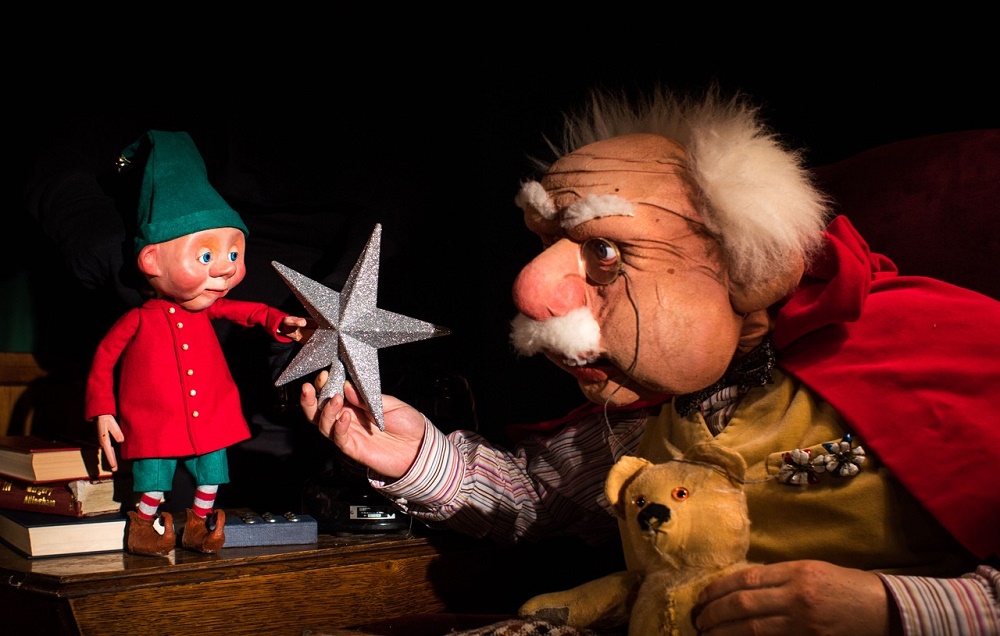 The first tale takes us to the farm-yard where Tomten lives in the barn. She's not the kindest little gnome, yet she gets her comeuppance to the delight of the children, who shout out to help the animals discover who has tricked them.
The use of smaller size puppets to give perspective as they move from scene to scene is very imaginative, as is the whole production.
When the Christmas toll enters, larger than life she filled the stage, and though you would have thought a little scary, the young audience greeted her with loud cheers. Pickled Image Theatre really does know their young audience, and have them captivated.
Listening to the parents, grandparents and children waiting to enter the theatre, many had been to see last year's show, and were so delighted to be coming again. To keep a theatre full of a high-tech, screen focused nursery and primary school children captivated without the use of special effects was an amazing achievement that Pickled Image Theatre pull off in style.
As an adult, you will enjoy the creativity of this production. The heart-warming tales of honesty, kindness and friendship all have a happy ending as does the show. Children are invited to come onto the stage to meet Grandad after the show, and with such as kind face, and warm gentle voice, the children weren't frightened to meet the star of the Christmas show - who eventually finds his star to finish off his Christmas tree.
This is a great production for very young children to see, as it's not too long and it is visually entertaining. Christmas Tales with Granddad is gentler than a pantomime, yet has everything children love. It's a great introduction to theatre that will become a wonderful childhood memory.
Reviewer: Karen Morley-Chesworth
Reviewed: 21st December 2019
North West End UK Rating: ★★★
Christmas Tales With Granddad at The Brewery Arts showing:
• 24th December 11 am & 2pm
• 26th December 2 pm
• 27th December 11 am & 2pm