It seems every musician or band are having musicals based on them at the moment, from Michael Jackson, The Kinks, Abba and a new addition to the list, The Small Faces. So with all these new musicals opening thick and fast, there has been some that never should have been made, The Spice Girls musical is one that I can recall definitely shouldn't have made it to opening night.
So, I'm at the beautiful Buxton Opera House to see 'All or Nothing' The Mod Musical based on the rise and fall of The Small Faces.
The show opened with what was The Small Faces last live performance when it freeze frames and an older Steve Marriot played by the fantastic Chris Simmons takes to the stage to narrate the show, I really liked this concept of guiding us through the highs and lows of his career and it gave the character a real personality, real feelings; made him a real person, not just an old famous face. Simmons then guides us through the life of his character, starting with burning schools down and performing in Oliver, it's worth mentioning at this point, that it's not all Small Faces music performed in the show, as the couple sat next to me started to question if The Small Faces in fact wrote the score to Oliver, in confident they didn't.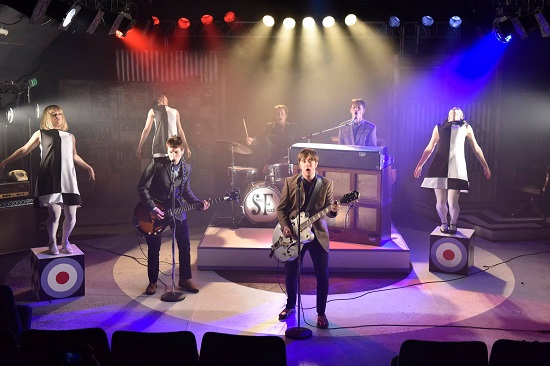 As the story progresses you meet Steve's mother; Kay Marriot, played by the wonderful Carol Harrison, who plays the character full of heart and persona, even when Young Steve Marriot played by Tim Edwards is turning down her beloved acting jobs, she still cares for her son as he starts up the band, and as we meet the full band's original line up properly, Ronnie Lane played by Joshua Dowen, Kenny Jones played by Drew-Levi Huntsman and Jimmy Winston played by Joesph Peters, the band had remarkable rapport and you would easily believe you were watching the real band up on stage in Buxton tonight. As the bands journey continues and they get a record deal with Don Arden played by the hilarious Russel Floyd, tensions start and Winston is replaced by Ian McClagan played by Joshua Maddison, things go well for the band and hits start coming in thick and fast.
I can honestly say, I wasn't expecting to be watching characters such as Sonny and Cher played by the amusing Daniel Beales and Danielle Johnson or Dusty Springfield played by Sophia Benn performing in a Small Faces musical, but it works, there are many little touches in this show, that will make you laugh, giggle, cheer and sometimes cry.
And as the story continues, with love interests such as PP Arnold played by Dami Olukoya, we delve further into the life of Steve Marriot, and as it all goes wrong for Marriot and he feels his band blame him for their financial woes, the older Marriot; Chris Simmons gives us a fantastic monologue complete with tears and fantastic emotion and I had tears in my eyes as Marriot had a final conversation with his mother, a conversation which never was, it tugged at the heart strings and it was very well written by Carol Harrison and incredibly directed by Tony McHale.
I was sceptical of a Small Faces Musical but I was wrong, this is a fantastic sleek, funny production which makes you laugh, cry and dance, and that's all we want from a musical really. I'm not a big fan of Small Faces music but I was a big fan of this show, which really does show just how good this show really is, the set is impressive with lights everywhere, the cast are wonderful, and the story is worthy to be on the stage, it's not just song after song like a few Jukebox musicals, this has dialogue, and a show like this needs it, otherwise it would just be a tribute show, as the show finished to a standing ovation from the whole theatre, I couldn't think of anyway they could better the show, I love this Musical, it's all too beautiful!
Reviewer: Max Eden
Reviewed: 3rd October 2016
North West End Rating: ★★★★★