If there has ever been a more perfect film to be turned into a stage musical, it must surely be the Kevin Bacon classic; Footloose.
It's got that fantastic story that you'll probably already know of a small town which bans music and dancing and a new kid who moves there that can't stand still, rebelling against the preacher to change its laws, add to that a fantastic soundtrack and surely that's musical Gold.
Well it's toe tapped its way to Buxton Opera House with a star studded cast that includes Pop Idol favourite; Gareth Gates and Maureen Nolan of the incredible Nolans. I've got to say; if the opening night up in the peaks is anything to go by, this is one musical that is sure to get you in the mood for dancing! (Yes, I've used a Nolan lyric already, I've just got to get Gareth's 'Unchained Melody' in here somewhere now).
Joshua Dowen takes the lead in this production as the Chicago kid on the move; Ren McCormack. I was lucky enough to catch Dowen in the recent 'All or Nothing Musical' last year and like the previous, he's shown himself again to be an extremely talented performer with so much vigour and energy that he makes you want to get up and dance because it looks just too much fun.
The whole cast make it seem so effortless though, Hannah Price is first rate as the preachers daughter; Aerial Price And the chemistry between Price and Dowen is electric on stage, it just works so well.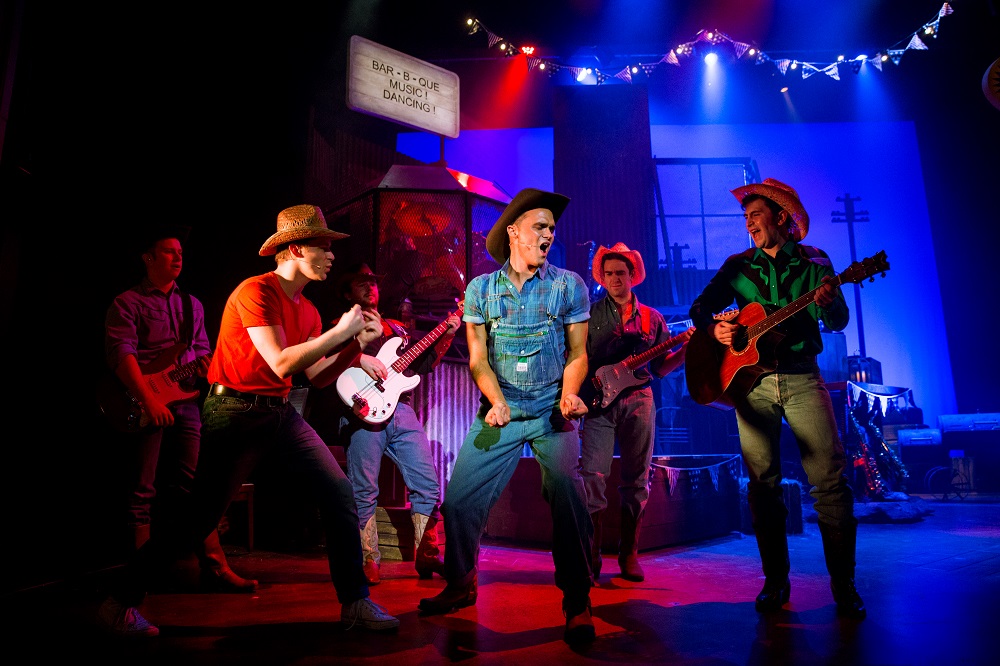 Gareth Gates plays the loveable Willard and he had the women cheering for him even before he went topless in the first half, but it was his vocals that got the biggest applause during 'Mana Says' when he delivered a top notch performance. Willard's love interest; Rusty is played by Laura Sillett who has bags of energy and is a great asset to this musical along with another gem in this tour; Maureen Nolan who plays Vi Moore and the principal, Maureen provided some of the best vocals of the night and shone on the Buxton boards.
The stage design consists of a revolving centre stage section which worked very well in changing a scene quickly and for a touring company, I was very impressed.
Though it must be said, the most impressive part of this production has got to be the entire cast, because they aren't just singing and acting on stage, as if that wasn't enough, they play all the instruments live on stage too, from clarinets to flutes and guitars to saxophones, it's all the cast and it adds a great dynamic to the show which I've not seen done in this way before, especially with the story being based on the ban of rock music and dancing, it fits so well.
With these talented individuals on stage; one thing is for sure, it's going to bring a big smile to your face, with great well known hits performed including 'Let's Hear it for the Boy', 'I need a Hero' and of course the title track 'Footloose' – it's inevitable that you're going to come out of the theatre with a big grin and a spring in your step.
Verdict: A terrific feel good musical with the stage filled with bucket loads of talent
Reviewer: Max Eden
Reviewed: 30th May 2017
North West End Rating: ★★★★★