One of the most important factors in a successful musical is the music itself, you can have a fantastic script but if the music isn't up to scratch, the whole thing just doesn't work. So with that in mind, surely 'A Spoonful of Sherman' must be a contender for being an all-time great musical.
Based around the music of the Sherman brothers and family, it's got a catalogue of instantly recognisable hits and can tug at all your childhood memories being that most numbers have been featured in Disney classics and the like, Mary Poppins, Jungle Book, Chitty Chitty Bang Bang; you name it, a Sherman has wrote it.
So why with such a fantastic score and a spellbinding cast, I am leaving the theatre feeling a little underwhelmed.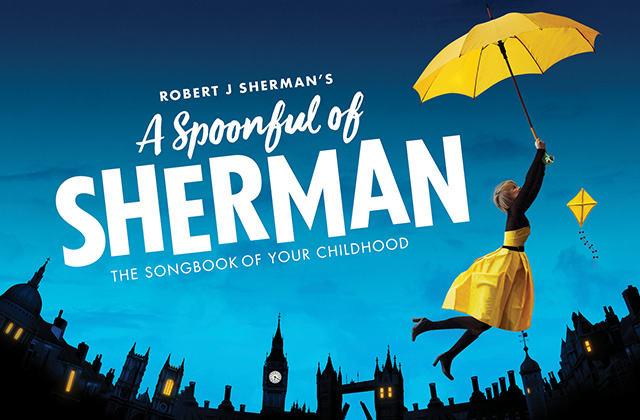 Now the cast really does work hard; the quintet takes it in turns to belt out three generations of Sherman family hits; from Al's work in 1930s, his sons; Robert and Richard famed for their work with the Disney franchise and most recent; Robbie who in fact created this show. The cast is made up of Ben Stock and Mark Read who take it in turns to play the piano amongst other jobs, while the others; Sophie Louise Dann and Jenna Innes harmonise their fantastic vocals leaving Glen Facey to bring in some added energy and showmanship and the whole cast deliver a faultless performance.
The cast are without a doubt the best thing about this show; a versatile group that can go from belting out emotional hits like 'feed the birds' to delivering wonderfully silly numbers like 'The wonderful thing about Tigger', all while making it look easy.
The staging is rather simple with a set which resembles an old time rehearsal room but the cast use it to their advantage, the entire show is a long trip down memory lane like no other musical can provide but yet after the first half, the show had become a little predictable acting as a live jukebox only with a virtually non-existent plot.
Yes you'll be singing along, and yes you won't be able to get these irresistibly catchy tunes out of your head but I thought I did expect more than narrated dialogue for its storytelling. The show would be better described as a tribute concert to the Sherman family instead of a stand-alone musical.
Don't get me wrong, it's enjoyable, fun and silly in all the right places, the Mary Poppins medley at the end of the first half is glorious and so is the rousing rendition of Chitty Chitty Bang Bang at the very end, but the show lacks any sort of plot twist to keep you hooked and after a while your attention starts to wander.
Verdict: It delivers a spoonful of sugar, but don't expect any spice!
Reviewer: Max Eden
Reviewed: 2nd April 2018
North West End Rating: ★★★