The Classic Thriller Theatre Company present this Edgar Wallace play adapted from his novel written in the early 20th Century. Wallace was one of the most prolific writers of the 20th Century taking only two to three days sometimes to write a novel. During his career he wrote 957 short stories, over 170 novels and 18 stage plays also script writing for RKO and had a hand in creating King Kong.
The play is set in the early 1930's and begins with the first murder which happens off set. The household has been partying at their Annual Fancy Dress party when the body is found by Isla (Scarlett Archer) – Lady Lebanon's secretary. The method used was strangulation by a red silk scarf with a weight tied onto the end of the cloth. We learn that the household has many secrets, and all is not as it would seem. Lord Lebanon (Matt Barber) is set to inherit the Estate as his father died some years before, but there is some mystery surrounding his father's death as no-one appears to know how he died. Also, what is in the storeroom that Lady Lebanon (Deborah Grant) will not let anyone see and she has the only key? So many of the household spent time in India, what secrets do they try to cover up? Why are the footmen watching Lord Lebanon so closely?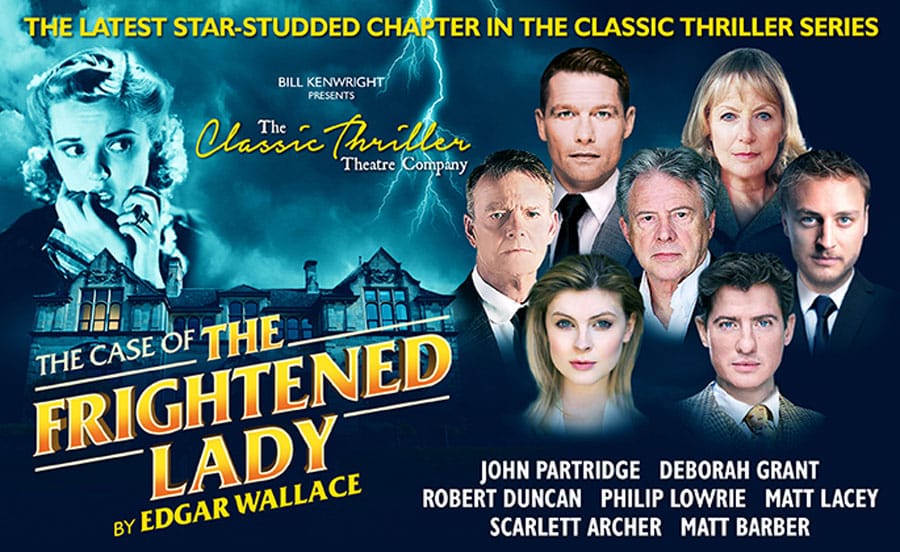 Chief Inspector Tanner (John Partridge) and Detective Sergeant Totti (Matt Lacey) must investigate and unearth the truth from this slippery family who desperately want to keep the facts hidden.
The first impression as the curtain rises is of the impressive set. Set in the hallway of an old ancestral home there is attention to detail with an olde worlde chandelier and wall lights helping create the atmosphere with subtle lighting and stone work. The costumes are opulent and strike the right chord as this is a flamboyant household with evening dress being the custom at dinner.
The hallway scene is the only set used during the play and one does feel that the play would benefit from a move into another room to refresh the audiences gaze. So many things seem to happen elsewhere off set, that we are left feeling a little left out of the action.
The actors do well to build up the suspense and present the play faithfully playing on the twists and turns of the plot.
All in all, the play delivers what it sets out to do. This is a murder mystery with a twist at the end from a time of decadence and old money. This is well portrayed but could be said to be a little tired. If you set out for an evening expecting a Classic Thriller, then you will not be disappointed.
This production is currently touring, and tickets can be booked as follows - http://www.kenwright.com/microsite/the-case-of-the-frightened-lady/#booktickets
Reviewer: Caroline Worswick
Reviewed: 22nd October 2018
North West End Rating: ★★★