Chicago Blues Brothers offers a riot of fun to those who love the movie or just want a sing song and a boogie (like me!).
Chris Hindle (Joliet Jake Blues) and Gareth Davey (Elwood Blues) take on the mantle of the Blues Brothers and do a fantastic job of injecting their enthusiasm into the Buxton crowd on a foggy damp Thursday night.
The introduction sets the scene for the evening. The band give us a hint of what is to come and then the singers begin with the wonderful 'Soulman'. They follow with 'Rawhide' and 'Papa was a Rolling Stone'.
If I am honest, I felt the next song didn't really work. 'Stand by your Man' is an iconic Tammy Wynette song and would be better sung by one of the ladies.
Further into the set and we are feeling soulful! 'Think', 'Respect' and '634-5789' follow and then girls take on some Supremes numbers. You can't help but love these songs, 'Keep Me Hanging On', Stop in the Name of Love' and 'You Can't Hurry Love', even if you don't remember the original you will know the cover versions.
Gareth Davey does well with 'Cob Calloway', this was a smooth rendition, loved the white suit!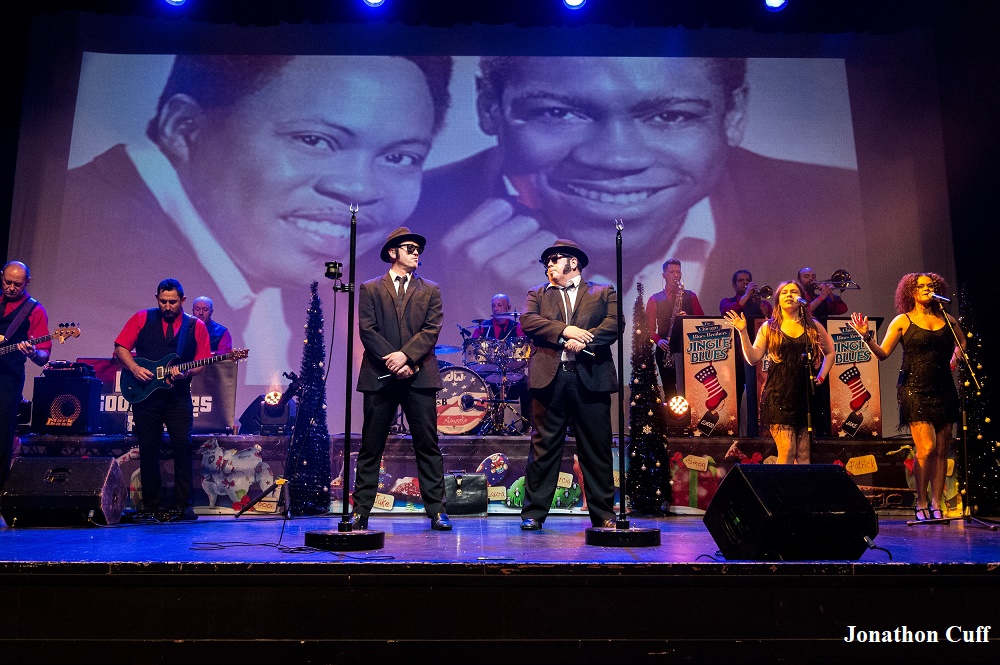 The last set before the interval catered for my taste in Motown. The band played 'Green Onions' then gave us a stonking 'My Girl', 'Just my Imagination', 'Tracks of My Tears', 'Out of Sight' and 'Signed, Sealed, Delivered'.
As we go to buy ice cream at the interval, I am feeling that it needs more energy. I guess they must be able to read minds as this is exactly what happened in the second half.
Elvis' 'Jailhouse Rock' and then how did they know I love Dirty Dancing? Now you are just showing off boys! I reminisce as they sing 'Do You Love Me' then we are all up dancing to 'Blame it on the Boogie' and 'Flip Flap Fly'. By this time boys you have won Buxton over. The rotten weather outside is forgotten as you have brought your own rays of sunshine with you!
By now the audience is in full swing and we are unashamedly doing the mashed potato, the swim and the monkey and shaking our tail feathers. 'Dancing in the Street', 'Proud Mary', 'Twisting', 'Sweet Home Chicago' then moving into the last set.
Buxton is warm now and you hit us with 'So Glad You Made It' and the mega song 'Everybody' (no Blues Brothers tribute would be able to leave the building without singing this song). The final Four Tops songs 'I'll be There', 'Standing in the Shadows of Love' and 'Sugar Pie Honey Bunch' finish off a fun evening. We have an encore of 'Your Love is Lifting Me Higher' and it's time for Buxton to go home.
Guys, it is a nice touch to rush straight to the foyer to say goodnight to your audience, it shows where your heart lies.
If I had to be picky, I would say that some of the choreography needs work just to make the routines more polished, but this is its charm!
If you leave your inhibitions at the door and you are prepared to dance and sing-along (rather badly in my case) then you are in good hands with the Chicago Blues Brothers.
Reviewer: Caroline Worswick
Reviewed: 22nd November 2018
North West End Rating: ★★★★