Now, I never thought I'd see global superstar; Joan Collins, famous for her role as 'Alexis Colby' in Dynasty holding a Q&A with the lovely folks of Buxton and surrounding areas, but that's exactly what we got in Joan Collins one woman show; 'Unscripted' currently touring the UK and it was all rather surreal.
The stage is simply set with just two chairs and a video screen behind, Collins is joined by her fifth husband of 17 years; Percy Gibson who helps to moderate the show while microphones are passed around the auditorium and frenzied fans jump at the chance to ask a question.
The questions are always quite subdued and it's best to not expect any question too juicy because they all normally go like 'Hi I'm Jane, I adore you, how do you look like that?' Or 'What's your favourite film?'.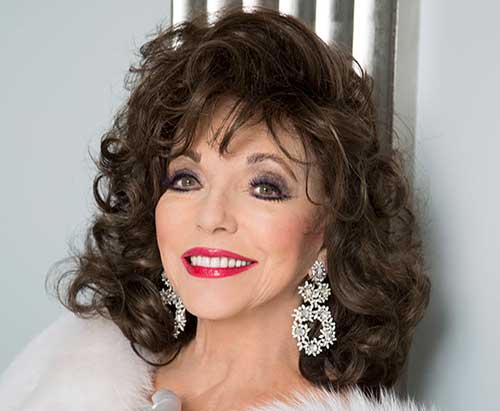 Saying that, Dame Joan Collins makes the evening feel rather glamorous and when listening to her recount stories from her earlier career, massive juggernaut names from Hollywood are mentioned as friends; Elizabeth Taylor, Marilyn Monroe and Bette Davis.
Collins now 85 years young, still looks and sounds fabulous and although this show is rather unorthodox in the way it's unscripted, Collins is able to move answers a certain way so they can incorporate clips of past performances and it's not until this show that I realised quite how talented an actress she really is.
Collins has had a number of very different roles, something that was highlighted as she cued a clip of a new film short she's just starred in, titled 'Gerry' in which she wears no make-up and plays anything but A diva, as an elderly woman in a lonely flat.
I got a new perspective in to the life of Dame Joan Collins tonight both on a personal level and as an actress, I found it quite insightful. She holds a positive attitude throughout her life and that comes across when she's dissecting her career so far and a comment from an audience member of 'hows your journey been' is dismissed, 'it's not a journey, it's a life and it's not over yet'. It's that mentality which really is admirable.
By buying a ticket to this show, you get to be a sort of friend of Dame Joan Collins for the night - or at least feel like one. She recounts amusing anecdotes and stories from her career including a great story involving how she got Bette Davis back after she was a'b*tch' to her on set, she makes you feel part of the conversation even if you don't get to hold the microphone.
Verdict: A rare evening with a Superstar!
Reviewer: Max Eden
Reviewed: 24th February 2019
North West End Rating: ★★★★