You can't beat the golden age of Hollywood for its Glitz, glamour and extravagance; something stage production; Puttin' on The Ritz embodies fully with a show which is jam packed with everything one would expect from dance show specialising in this era.
This production has the complete package. The Choreography is second to none; the routines are flawless and the talented ensemble on stage make every move seem effortless, performing stunning routines to a selection of the most memorable songs of that era including 'I Got Rhythm', 'Cheek to Cheek' and somewhere over the Rainbow' plus many more.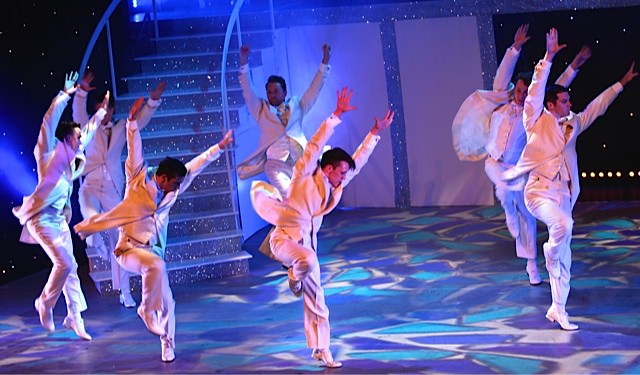 The routine to 'Puttin On The Ritz' which concluded the first half was the most noteworthy to me; it felt big and glitzy with the entire cast on stage, it was easy to get lost in the fancy footwork on display.
The outfits for this production could have come straight out of Judy Garland's own wardrobe, each dazzling and attention grabbing; with plenty of costume changes between numbers with glittering gowns, tuxedos, flapper's dresses and traditional tailcoats featuring.
The set design is simplistic with a giant star cloth and red curtains to the sides as its backdrop but it's colourful and the dancers and singers make the whole show interesting throughout.
The show featured five vocalists with two males and three females who all delivered pitch perfect vocals; my only gripe was the show didn't have a live band or orchestra and was instead entirely on backing track, made slightly more frustrating with parts of the tap section featuring tap noise on which took away from the tap on display, nevertheless the cast dazzled the audience at Buxton Opera House with outstanding routines and vocals.
Verdict: A Visually stunning tribute to the Golden age of Hollywood!
Reviewer: Max Eden
Reviewed: 9th August 2019
North West End Rating: ★★★★