The Ballroom Boys are Ian Waite and Vincent Simone, both former professional dancers on 'Strictly Come Dancing' in which they both participated for seven years. They remain involved to some degree: Ian Waite features on the accompanying magazine programme 'It Takes Two' and Vincent Simone choreographs the Argentine Tango on 'Strictly' itself.
Like many 'Strictly' professionals both past and present, Ian and Vincent are touring with their own show, "The Ballroom Boys", which showcases not only their outstanding dancing talent but also features singing, comedy and more than a little bit of cheeky banter. Accompanied by two female dancers, Crystal and Ksenia and also former Billy Elliott The Musical star (and Olivier Award winner) James Lomas, this show is fun and entertaining in many different ways with more than its fair share of laugh out loud moments.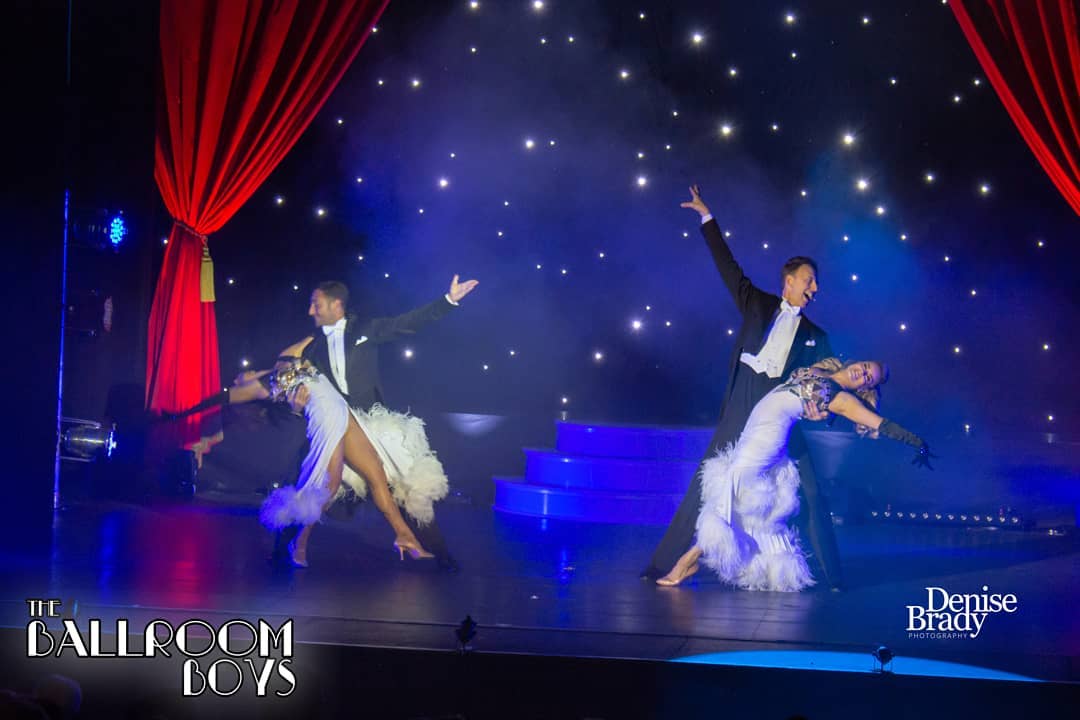 It goes without saying that Vincent and Ian are talented dancers but seeing them live in a beautiful venue like Buxton Opera House is really something else. The venue very much suited the show and the style of the show and although Buxton Opera House is not a small venue by any means, I felt if the venue had been any larger, the show would have lost the warm dynamic that it had. It felt as if we were up close and personal with the performers on stage which made it quite thrilling when watching them dance.
The show was opened by James, singing "Top Hat, White Tie and Tails" and there followed an outstanding Quickstep by Vincent and Ian with their partners which was a real high point. The choreography and staging was perfect and to see them dance so beautifully on a relatively small stage while maximising every inch of space was certainly impressive and set the bar very high for the rest of the evening. Said bar remained high for the next dance which was an American Smooth Quickstep from Vincent and his partner and we were then treated to a beautiful Foxtrot with unusual contemporary choreography and stunning lifts.
Throughout the evening, there were six dances in the first half and five in the second. The choreography in each dance was stunning and I was sorry they didn't squeeze one or two more in. There was quite a lot of chat, some of which could have been trimmed to make room for another dance or two. All the dances were outstanding and it would have been a treat to see a few more. The Jive sent the energy levels through the roof and as for the Paso Doble: the enthralling cape work alone sent shivers down my spine and the dance itself was full of mesmerising masculine power.
Four members of the audience were invited onto the stage to take part in a game where they had to dance like certain singing icons. I'm sorry to say I think this really doesn't work: it felt like second rate holiday camp entertainment and cheapened the show somewhat and was a waste of time when we could have been watching more dancing. Ian and Vincent were very good with the people who came up on stage but it dragged on and didn't really add anything to the evening.
Vincent is notorious for his self-adulation and he really played up to this throughout the evening. There were also a lot of single entendres and cheeky jokes about size....not always referring to the height difference between them. I'm not sure that all of these worked and I did find myself cringing a little at times. That said, I did like the way that they clearly don't take themselves too seriously. Once they were dancing, however, the passion and commitment they have for their craft shone through and left us in no doubt that we were in the presence of dancing greatness.
At one point in the second half, they became "The Ballet Boys" which is one of the funniest things I have seen for a long time. With Vincent in white tights and Ian in a pink tutu, they played this to maximum effect like seasoned comedians. Another unforgettable high point of the evening.
Vincent demonstrated why he is a giant of the ballroom with his trademark dance, The Argentine Tango. I did get a little bit star struck while watching this even though I have seen him live before. It was simply breath taking and amply demonstrated his mind blowing talent.
The finale featured a duet between Ian and James of "Bring Me Sunshine" with a special surprise addition at the end of it which had everyone in stitches and the show finished with a 70s disco medley which had everyone up on their feet.
Ian and Vincent have shown another side to themselves by teaming up for "The Ballroom Boys". Yes there are slightly cringe jokes and some on the nose innuendo but their dancing is the best I have seen from this type of show and I came away feeling I had seen something very special. The whole evening is greater than the sum of its parts and has something for everyone. It is a sensational collaboration. https://www.theballroomboys.com/
Reviewer: Nicky Lambert
Reviewed: 7th October 2019
North West End UK Rating: ★★★★