I could quite easily just write the words, 'GO AND SEE THIS SHOW' and finish this review there. Funny, intelligent, outrageous, satirical, opinionated, emotional and every other brilliant adjective that any piece of theatre should be is how I would describe this new production by Middle Child at this year's Edinburgh Fringe Festival.
Set against the backdrop of new waves of motion and thought, this inventive piece of theatre combines conventions of the art form with gig theatre, making this show a truly unique and dynamic theatrical event that engages and connects with a huge spectrum of audiences. We are to question what it is we want in today's world vs what we wanted in yesterday's and ultimately what we want to achieve before the world becomes unrecognisable and our dreams and intentions are shifted for good.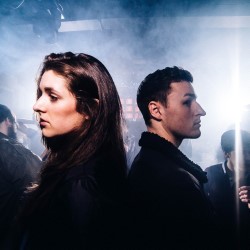 The script, by Luke Barnes, is one that is bold and brave and one of the finest pieces of satirical, political and powerful spoken word writing I have heard in a long time. Barnes tackles haunting issues of our past, present and future with wit, power and passion that is hard to not be enthralled by. Barnes exemplifies everything that a playwright in the 21st century should be: daring and devoted to creating theatre that matters and is enjoyable beyond belief.
Our narrator, played by Marc Graham, is responsible for commenting on the actions of the play. Graham has presence on stage that is envied by many actors and has quick-fire improvisation skills that left the audience wiping away tears of laughter and of truth and realisation.
The entire ensemble of actors, directed by Paul Smith, demonstrate a truth and honesty that I believe the fringe can often lack. From a broken father (Joshua Meredith) trying to look after his daughter, (Bryony Davies), to a grieving mother (Emma Bright) trying to provide every opportunity to her bright spark son (James Stanyer). Alongside a vibrant musical score by James Frewer, this company of talented actors, musicians and storytellers collide to create a truly earth shatteringly brilliant experience of reflection and hilarity for an hour or so in a small theatre space in Edinburgh.
All We Ever Wanted Was Everything encapsulates and personifies what I believe the Fringe Festival is/should be; bonkers, bright, bold and bursting with potential. I would like to think that this is not the last time we will be hearing this title battered about the theatrical circuit. This company, compromised of young, working class talent, inspired me and many others in the bar afterwards to 'live our lives'. After all, we can be anything we want to be… can't we?
All We Ever Wanted Was Everything runs until 27th August at The Roundabout at Summerhall. My ultimate pick of the Fringe. Go, I dare you.
https://tickets.edfringe.com/whats-on/all-we-ever-wanted-was-everything
Reviewer: Sarah Gibson
Reviewed: 16th August 2017
North West End Rating: ★★★★★