Let's take a journey back to being age 10. What did we know about our body and what was about to happen to it? Jacqueline Haigh decides to find out by learning the hard way not to nosy into other people's things, namely her sister's! When she happens upon a book about puberty this starts a journey of discovery, although the book is a misnomer as it teaches you very little about anything!
Moving on several years and Jacqueline needs a job. She goes for an interview as a receptionist and soon realises this is not going to be your average reception job. This massage parlour offers some additional services which allow them to charge vast amounts of money (but you can never refer to the services as sexual in any shape or form).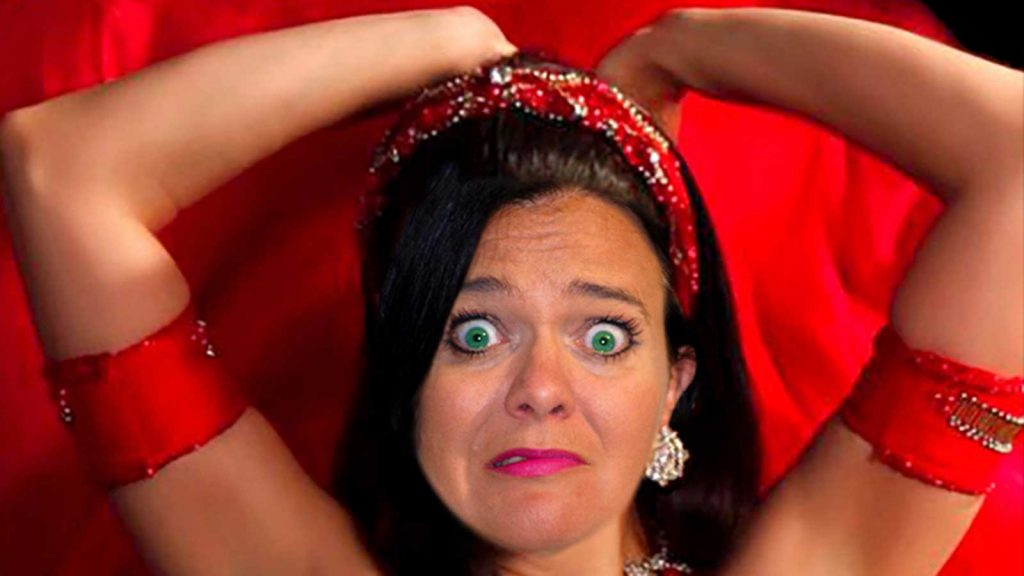 We were introduced to the 'goddesses' Isis and Aphrodite who take care of the clients (nudge, nudge, wink, wink) and provide these exclusive tantric massages. These two intriguing characters use such words as lingam and yoni (our sex organs in tantric speak) and amrita (or g-spot) and can take their clients into another realm (so to speak)!
Haigh has a natural ability to deliver her true story with comedy timing and always engages with the audience which is important in such a small space. Her easy-going nature makes it impossible not to take to her infectious humour and you can quite easily imagine sitting in a bar with her telling the story to you over a few drinks!
The characters are slowly developed as the piece moves on and Haigh easily moves between these, my personal favourite it is Krishna, but I will leave the audience to find out about him themselves!
The laughs from the audience come easily as her skills in crafting a good tale with excellent comedic timing deserve this encouraging feedback.
Having read Haigh's press release, I was interested to read that she had worked extensively with the late Ken Campbell (or the Guvnor as he is affectionately known). Having seen some of Ken Campbell's disciples at work previously I have always been impressed with their individuality and sheer enjoyment and professionalism. This is evident with Haigh and some of the magical 'Ken' glitter has been sprinkled here.
This is the second time Haigh has brought this show to the Edinburgh Fringe although it was part of the FBH Free Fringe last year. It is worthy of success and I wish her all the best with it.
To buy tickets https://tickets.edfringe.com/whats-on/goddess The show runs from 2nd -25th August (not 13th or 20th).
Reviewer: Caroline Worswick
Reviewed: 6th August 2019
North West End Rating: ★★★★