During a day of Shakespeare and Improvising I was looking forward to seeing The Maydays as they are masters of their craft. They not only perform, but teach improvisation as a life skill for businesses, employees and to other fellow actors wanting to brush up on their improvising skills.
Today, they are performing their gothic style improvised musical. Dressed in black and white they have styled themselves on an Addams Family look which helps to create the atmosphere.
The choice of subject of the play is handed to the audience for their suggestions. We are asked – What job does your Father do? The one picked is Cinema Projectionist. It's time to go to the cinema!.
It's Ellie's birthday and she is 10. She has never seen a film before as her Dad has told her that she cannot see her first movie until she is 10. Today is the day they are going to the cinema and their first experience is the slightly scary and very grumpy ticket seller.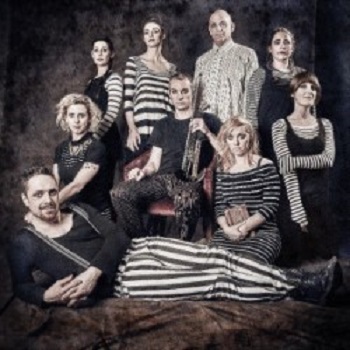 As it's Ellie's birthday she is asked if she would like to go up to the cinema projectionist's room to see how the films are shown? She is taken to see Colin the projectionist who doesn't like people and never leaves his room. The first song is 'Change the Reel' and Ellie is then asked to step into the light and she immediately turns into greyscale and becomes part of the movie.
The movies are set in 1912 and involves two detectives trying to solve the mystery of a woman's dead husband. Ellie is in the movie playing a one of the detectives, totally oblivious that she is a 10-year-old girl. Concerned about her, her Dad goes to see Colin the projectionist and becomes greyscale and goes into the film wearing a red dress. Ellie and her Dad can only be themselves for 2 minutes between movies, then they must immerse themselves into the next movie. The song 'Trapped Inside a Movie' is then written on the spot.
Just to add to the gothic music that is being played by a keyboard player the heavens decided to open and we had a storm which added to the gothic horror atmosphere.
The Maydays did not let us down with their skills in the comedy department and they were very quick with their ideas. I did sometimes feel that the show was almost not gothic enough. It could have been darker, maybe adjusting the lighting may have helped to have give the show a more gothic feel.
It is certainly an hour well spent and there is no argument as to the Maydays ability to improvise.
To book tickets go to https://tickets.edfringe.com/whats-on/happily-never-after The show runs from 8th – 12th and 14th - 26th August 2019 at Gilded Balloon Teviot.
Reviewer: Caroline Worswick
Reviewed: 7th August 2019
North West End Rating: ★★★