Macbeth is one of the most performed of Shakespeare's plays and theatres are always trying to find different ways to offer a play that was written 396 years ago and remained forever popular. As one of Shakespeare's tragedies it is very dark and very dramatic so adjusting the play must be done with great care.
In this version by Tread the Boards Theatre Company the cast are all female. This offers certain challenges as the play is very masculine so without giving the cast shots of testosterone or steroids, it is down to good direction and acting. The Tread the Board Theatre Company are well versed in staging Shakespearean plays and being resident at the Attic Theatre in Stratford-upon-Avon they have a captive audience of Shakespeare seekers!
Apart from one moveable metal frame the stage is bare of any staging. The intimate theatre space allows you to feel close to the performance and this pay's dividends as it adds to the impact during the more physical scenes.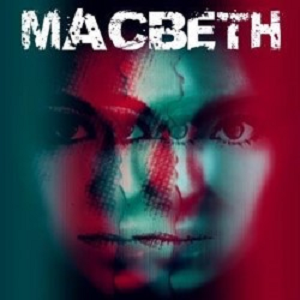 There are six cast members playing mixed roles and there are only slight changes in costume to help to differentiate the roles, so the quality of the acting is key. Macbeth him/herself, is a strong role to play which requires forceful delivery and a physical presence.
The size of the task is easily taken on by the actress who plays the role, even though she is petite, she manages to portray an air of menace and the strength of a warrior.
There have not been any changes of name, so the characters all remain the same and the play is easy to follow. This is a paired down version at 90 minutes so ideal for the younger children who may get restless in the normal length of Macbeth.
The costumes have been custom made and are modern but masculine which help promote the feeling of them being strong soldiers.
The play is easy to follow even if you are not familiar with the Macbeth story. Duncan's murder scene was appropriately dramatic, and I did wonder at first why the plastic gloves, until I realised Macbeth's hands were to be covered in blood and apart from adding a modern touch it would also be a quick way of getting rid of the blood. The weapons are made from a mixture of tools and what looks like the base of metal hat stands, this gives the effect of a more contemporary version when considering the modern, rather military style clothes.
The final fight scene is worthy of any production of Macbeth. This scene is so well choreographed and filled with mirth and sheer brutality.
I can't praise this production enough for its brave, no holds barred version of this classic Shakespeare play. There is only a small time left until the run is over so hurry to see it.
This play runs from 2nd to 10th August 2019. Buy your tickets at https://tickets.edfringe.com/whats-on/macbeth
Reviewer: Caroline Worswick
Reviewed: 7th August 2019
North West End Rating: ★★★★