People of a certain age and those who are watching repeats will know Ross, Rachel, Monica, Joey, Chandler and Phoebe. The Friends series was hugely popular and judging by the size of the audience today still is. This musical is described as loosely based around the Friends series. To set the scene, Ross is putting on a show based upon the series where they are looking back over 10 years of friendship and the cast basically follow some of the moments that have happened in the show over the years.
Just as a reminder or for those who have never watched Friends, Monica and Phoebe share a flat and then Rachel runs away from her wedding and asks if she can live with them. They offer to help her get over her failed relationship and then she meets Ross. Ross lives with Joey and Chandler and their flat is close to the girls flat. The adaptation covers such things as Rachel and Ross getting together, Monica and Chandler getting together, Phoebe having her baby amongst other things.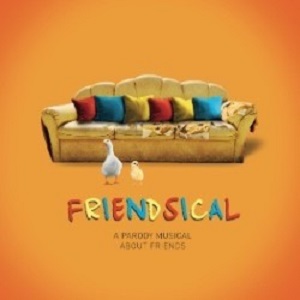 Apart from taking things from the series, the plot is thin. It seems that the scenes have been thrown together and it all seems a little too hyper and rushed. The actors did a reasonable job at impersonating their counterparts, but the costumes and wigs were cheap and for a production pulling in such large audiences I would expect better. Even though this is a Fringe Festival, this venue seats 650 people and was nearly full so I hope some of this money will be ploughed back into the production.
I took two 15-year-old boys with me and they enjoyed the show and I guess if you are going to see a production about Friends then you must like the series. I just don't feel it necessarily translates to a musical. There are far too many productions jumping on the musical bandwagon without offering a quality production.
I wouldn't put off true Friends fans from seeing the show as they will get something out of it, but don't expect the catchy signature tune, it doesn't appear, nor does a sign for Central Perk their coffee shop hang out. I can only assume this is due to restrictions from the Friends show itself.
I think this needs to be taken back to the planning stage and re-thinking and reinvesting some of their Edinburgh money into better quality costumes and props if they are attracting the bigger audiences. The plot needs enhancing, as it is far too cheesy (but maybe this is the intention)!
To see the show buy tickets from https://tickets.edfringe.com/whats-on/friendsical-a-parody-musical-about-friends The show runs until 25th August 2019 (not 12th or 19th)
Reviewer: Caroline Worswick
Reviewed: 8th August 2019
North West End Rating: ★★