In this engaging production by gig theatre specialists Middle Child you'll be treated to an enthralling, charming and thought provoking coming of age tale of racially driven estrangement played out with a grime/hip hop sound track - this is Billy Elliot meets Missy Elliot.
On entering the canary yellow tent in the corner of the Summerhall courtyard, the audience are greeted by co-composer Prez 96 (Nigel Taylor) free style rapping and radiating energy and charisma around the amphitheatre. The show begins with an informal, conversational prologue from writer and star Daniel Ward setting the auto-biographical tone and engaging atmosphere with an anecdote from his drama college days when an unnamed black actor shared the guilt associated with adjusting his cultural identity to fit into the acting world.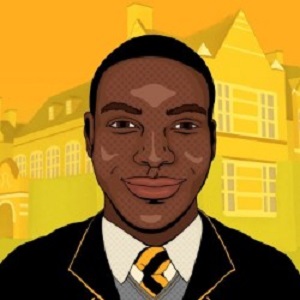 From here we are taken on the journey of The Bird - a young working class black boy whose talents have gained him a place in an exclusive private school; although he values the opportunity, initially there is some reticence - "Why are there no girls."
Through a series of formative experiences throughout his school years we are shown the difficulties associated with integrating into such an alien environment and witness The Birds transition from a wide eyed eleven year old Mummy's boy into a shrewd, socially aware teen - all executed with authentic delicacy by the multi-talented Ward.
In one thread we track the The Bird's development via a series of meetings with neighbourhood friend "Snipes" (Nigel Taylor) who serves as a cultural datum point and through the years we watch their worlds diverge and then suddenly collide.
As well as Taylor, Ward is supported expertly by Laurie Jamieson and Rachel Barnes who transition between playing different characters and different instruments with aplomb. Along with Prez 96, fellow co-composer and musical director James Fewer makes a valiant attempt to use the music to represent the core conflict of cultures by combining haunting cello sequences with machine gun grime lyrics - which combined with the high quality sound execution of Ed Clarke, delivers the calibre of auditory stimulus required for credible gig-theatre.
Throughout we witness the angst involved in living simultaneously in two contrasting segments of society and the challenge and alienation experienced in becoming the unwitting ambassador for both. Although the writing is skilful and the racial politics is generally delicately and pragmatically handled, at times the depiction of the upper class white characters strays uncomfortably into cliché.
On the whole production is everything that theatre should be: compelling performances, exploring relevant themes in a thought provoking, engaging and enjoyable way - you'll come away having had a glimpse into the impact of cultural alienation and have had a brilliant time in the process.
Until 25th August https://tickets.edfringe.com/whats-on#q=%22The%20Canary%20and%20the%20Crow%22
Reviewer: Col O'Kell
Reviewed: 19th August 2019
North West End Rating: ★★★★