There's a theory the inspiration for Dickens's A Christmas Carol stemmed from a trip to Edinburgh the author made in 1841. Visiting the Canongate Kirkyard it's said he came across a gravestone carrying the name of Ebenezer Lennox Scroggie, profession 'meal man' (an agricultural merchant), though – astonishingly for someone so literate – he misread it as 'mean man'.
The other alleged inspiration for the story was John Elwes, a Berkshire MP, but why let that stand in the way of an excellent Edinburgh adaptation? Plenty of the Victorian setting is still intact and the weather provides an authentic backdrop (even in November). You don't get much more 'Embra' than the tale of Greyfriars Bobby (the Skye Terrier who returns every night to sleep by the grave of his dead master) so, woven into the plot it is! Tony Cownie's adaptation is spiced with local dialect; 'gleekit', 'crabbit' (to mind just a couple) and a fair smattering of 'kens' bounce off the sliding walls of Neil Murray's set and Bob Cratchit becomes Rab Cratchit. It's set in 1857, which is important, but that penny drops later…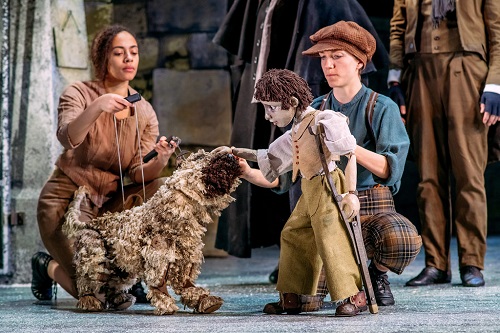 It's only night two so there's the odd missed cue and dropped line, but this is excellently performed by a well-dressed (who can resist a spot of loud Tartan?) cast in a good, well-lit (Zoe Spurr) set. By night five or six it'll likely be seamless. It's not clear who deserves the make-up credits, but you'd be hard-pressed to find a paler and more rheumy Scrooge (Crawford Logan). Contrasting his grumpiness, the comic turns flowed easily; was it The Kransky Sisters Lottie Longbones (Belle Jones) and Mrs Bigchin (Nicola Roy) were channelling? Grant O'Rourke stood out for his portrayals of the exasperated policeman, sleazy businessman (alongside Brian James O'Sullivan) and social liability Charlie.
There were puppets; Greyfriars Bobby worked – barked and snaffled - so well you quickly forgot the onstage presence of his 'handler'. No doubt his well-directed (Edie Edmundson) natural movement owed something to four 'elastic sprung legs' mentioned by Puppet Maker Simon Auton in the programme. Tiny Tim looked and moved well too but due to his static face and mouth it was less easy to ignore his handler speaking his lines. Maybe it was impractical or had been decided too crass to use him a like a ventriloquist dummy… or maybe one was sat too close to the stage?
Lastly there was the Community Choir, gracing the entire show with Carol-based harmonies (while irritating the policeman) to complete the spectacle, all of which drew cheers and a huge round of applause at the end. And some numbers; it's set in 1857… Scrooge comes by a present marked '1867' from one of his Ghost encounters, but how are these connected to 1958?
Reviewer: Roger Jacobs
Reviewed: 29th November 2019
North West End UK Rating: ★★★★