For anyone who battled through Jane Austen's 'Pride & Prejudice' at school - or university - this play is for YOU. If you spent those hours-you'll-never-get-back watching one of the film or TV adaptations, hurling abuse and shouting increasingly colourful language into the mouths of the characters, this script is for YOU. To witness this irritating novel set about with such irreverent relish was a filthy pleasure. Never mind what legions of readers and viewers have wanted to tell Lady Catherine De Bourgh to do, this play - via The Best Ever Mr Darcy - finally does it.
How?
First off, we're introduced, not to Mr and Mrs Bennet, but to six of Longbourn's servants clad in white utility smocks and DM's (Dear Young Team, that's a brand of footwear, not a form of soshal meeja); the story's to be told from their perspective. We're treated to a Karaoke version of Elvis Costello's 'Everyday I Write The Book', and already everyone's feeling better.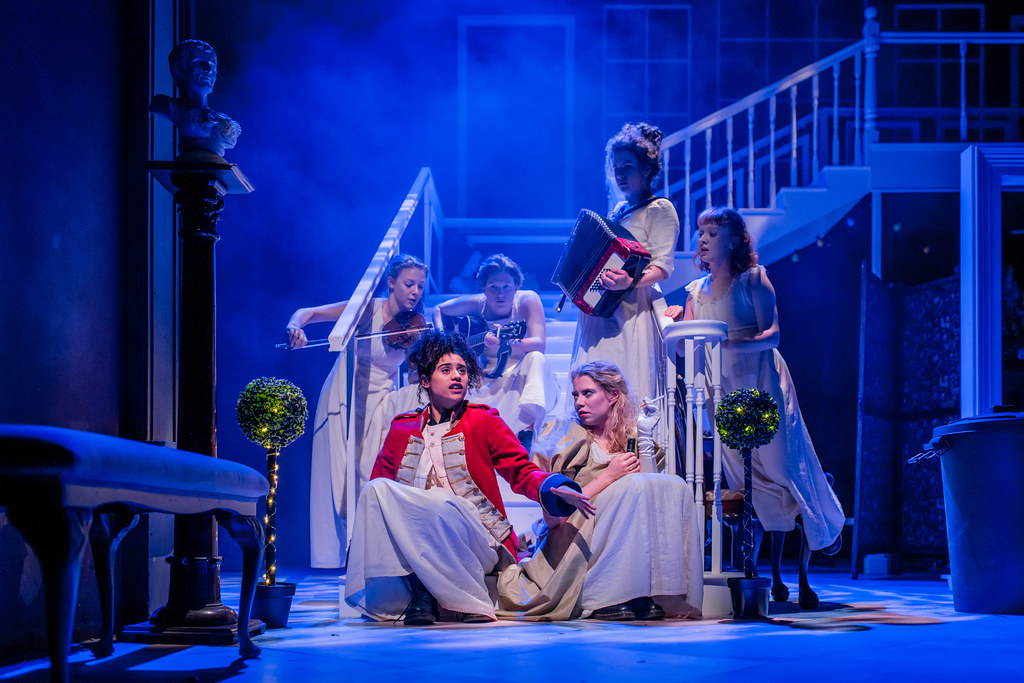 The six-strong cast, jaw-droppingly over-subscribed with talent, then proceed to multi-play characters from the book, as well as the servants. Apart from Mr Darcy (see above), writer Isobel McArthur also plays The Best Ever Mrs Bennet, lurching – with the aid of inhaler and wine glass - between The Rovers Return and Royston Vasey; Tori Burgess delivers a larrikin Lydia and much-maligned Mary; Felixe Forde a sympathetic turn as the overlooked Kitty, with cringeworthy portrayals of creepy Mr Collins and malevolent Mr Wickham; Christina Gordon depicts perfect, lovely Jane and terrifying termagant Lady Catherine, and Meghan Tyler a sassy sharp-witted Elizabeth; and they had to be good to stop Hannah Jarrett-Scott running away with the play as Mr Tim-nice-but-dim Bingley, his sour sister and Charlotte Lucas respectively.
There appeared no dip in energy or loss of momentum, the only pauses occurring when the audience – and occasionally the cast – were laughing too much to carry on. The pop songs performed karaoke-style stayed just the right side of theatrical ham, despite ranging from Pulp's heart-rending 'Something Changed' to the soft-core suburban hell of Chris De Burgh's 'Lady In Red'. Distracted with dizzy joy it'd be easy to overlook the unimaginable amount of care and work that must have gone into this from the directors (Paul Brotherston & Shilpa T-Hyland) and choreographer Emily Jane Boyle. All of which – ironically – inspires one to re-visit one of the adaptations or, heavens above, the book!
This production was that good it even compensated for a Mr Bennet played with cardboard charisma and the personality of four wooden chair legs.
'Brilliant': 'a diamond or other gemstone cut in a particular form with multiple facets... maximizing light return'.
Reviewer: Roger Jacobs
Reviewed: 4th January 2020
North West End UK Rating: ★★★★★