32 minutes of quiet stillness; because for whole film I couldn't move for fear of missing a breath or feeling an emotion.
Sea Wall the play was written for the stage in 2008 for the Bush Theatre by Simon Stephens, a Manchester born playwright who began his playwrighting career at the Royal Court. He is now Artistic Associate at the Lyric, Hammersmith and has written many plays such as Port, The Trial of Ubu and adapted plays such as The Cherry Orchard and A Doll's House. It is performed by Andrew Scott of Fleabag and Sherlock Holmes on TV, Hamlet and Present Laughter in Theatre and Spectre and 1917 in film, to name but a few.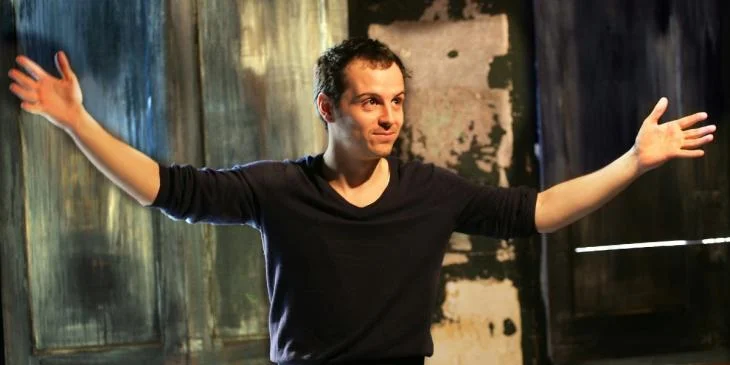 After Sea Wall's remarkable success on stage, this film was produced on a tiny budget, one Sunday in a photographic studio in the East End of London and shot in three sections. When the play was originally written for the Bush Theatre, the pre-requisite was that the play had to be performed without the assistance of lighting and was part of the Bush's Broken Space Season. The theatre's lighting rig had broken, and it was going to be out of use for a few months, so the idea was to commission writers to write plays that could be performed in natural light. Simon Stephens was one of the writers asked to write a piece, and Sea Wall was born!
Sea Wall is an incredibly intimate play and the monologue was written for Andrew Scott, who plays Alex. Having not seen the play performed in a theatre space, I can only imagine its impact.
Without giving too much away, the play is about Alex a photographer who is happily married to Helen and they have a daughter Lucy. Alex reflects on his family life and happy holidays in the South of France when visiting his father-in-law. To say much more will diminish your enjoyment of the piece, so I will stop there.
Being a viewer of this piece of intimate theatre places you in the position of confidant to Alex, who is sharing is life with you, both happy, sad and emotional. Andrew Scott's performance is natural, as though he is chatting to a friend and in his way of relating his story, you can't help but be drawn in.
The film has followed the original behest and is filmed in natural light, very simply shot, with very little in the way of added sound effects or lighting.
Sea Wall is available until 18th May and I urge you to grab a coffee and sit down to witness a wonderful example of playwrighting and performing at its best.
To watch Sea Wall go to http://www.seawallandrewscott.com/sea-wall-film-free-stream/
Reviewer: Caroline Worswick
Reviewed: 14th May 2020
North West End UK Rating: ★★★★★