Three friends from music college get together to produce a show about the trials and tribulations of being a music graduate...probably doesn't sound overly exciting but 'Climbing Uphill' really delivered tonight.
The show is billed as a 'Musical Theatre Revue' and is part of the Manchester Fringe Festival. Initially when I looked at the list of songs in the programme, I have to say my heart sank a little as I knew virtually none of them. However, this didn't matter a bit as Elizabeth Humphries, Jenny Carson and Jonathan Ainscough have put together a really well constructed, engaging, interesting and humorous show and I'm really glad I had the chance to see it.
The audience was small in number tonight and seemed to be mainly made up of fellow Royal Northern College of Music graduates but what was lacking in numbers was made up for in enthusiasm.
Elizabeth, Jenny and Jonathan all studied at the RNCM which is how they met. The show is the story of what comes after college, with all its highs and lows. They have picked lesser known songs from musicals, some of which are also lesser known. However, they injected such enthusiasm and talent into the way they performed, it was a really enjoyable experience, regardless of this fact.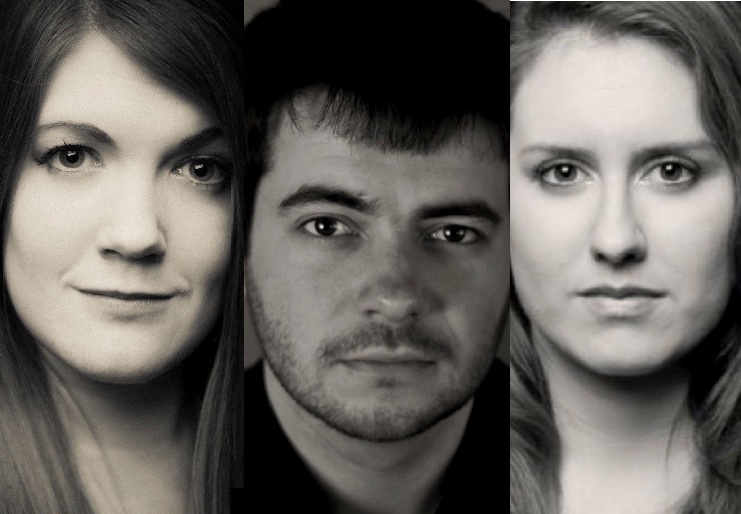 Before each song (there are eighteen in total), they take it in turns to explain why the song choice is relevant to their various rollercoaster experience of being a student, then being a graduate, launched into the real world. Highs such as graduation and all the promise it brings are cleverly contrasted with the lows of repeat auditions, feelings of rejection and self-doubt and the desire to return to being a student when it was all so much easier. The songs are well chosen and skilfully interwoven and although I didn't know most of them, this didn't matter.
There is a lot of humour in the show – the narrative that each of them do is witty and concise and I found myself instantly liking all of them. They all have excellent comic timing and expression in the way they perform the songs and they are very engaging. The songs were really brought to life with great facial expressions and impressive acting. The song "At The Ballet" from 'A Chorus Line' was performed excellently and I found myself hanging on every word. It was performed in a wistful manner with great pathos and it was a very commanding performance by all three.
"Not Getting Married Today" was a song that I had not heard before and I loved it – so entertaining to watch but I found myself wanting to take a deep breath for Elizabeth who sang at unbelievable speed, taking minimal breaths...what a talent!
None of them refer to any notes or script when they speak so even though I am sure it is not improvised, it comes across as fresh and unrehearsed. I particularly liked Elizabeth's delivery when she read excerpts from her journal when she first started college in Manchester, the phrase "yay for wellies!" having particular resonance at the moment and this provoked a good response from the audience.
In the second half, there was a guest singer, Steph Stanway. She too had an excellent voice but she lacked a little of the polish of the other three when it was her turn to speak about her college experience. No disrespect to her whatsoever but I preferred the dynamic of the original three.
The final song "A Gentleman's Guide to Love and Murder" was probably the highlight of the show for me – this is quite hilarious and all three perform it wonderfully. It left me wanting more.
There were a lot of RNCM graduates in the audience and the show clearly had extra resonance for them. However, it doesn't come across as cliquey or in-crowd because it has been very well written so there is something for everyone, not just those with mortar boards.
All three performers are very talented, skilled and versatile. The material could easily have made the show self-indulgent and exclusive but it wasn't – it was funny and engaging and almost like having little canapés of musical theatre served up on a delightful platter of humour and talent.
There are two more performances; one on 9th July at the International Burgess Foundation and another on 11th July at The King's Arms, Salford. Don't miss the chance to enjoy Climbing Uphill.
Reviewer: Nicky Lambert
Reviewed: 4th July 2016
North West End Rating: ★★★★